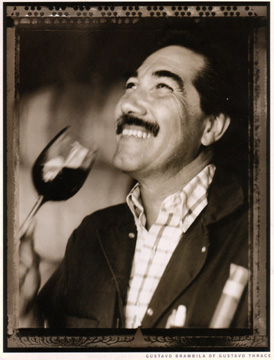 Bottle Shocked:
Uncorking the Real Gustavo Brambila
What's the difference between real life and the way Hollywood sees it? With the feature "Bottle Shock", quite a bit.
by Alan Goldfarb
August 27, 2008
---

onetheless Freddy Rodriguez, the actor in "Bottle Shock"
, who portrays Gustavo Brambila, serendipitously uttered what was in the mind of the actual man. I tracked down the real Gustavo Brambila one recent afternoon where he was filtering wine for his
GustavoThrace Winery
, and it became evident that the winemaker has his roots deep in the Napa Valley soil.