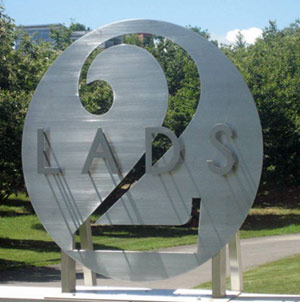 2 Lads Winery's Success
is 2 Good to be True
But true it is.
by Eleanor & Ray Heald
September 9, 2008
---

hen establishing a new winery
, selecting an easy-to-pronounce, catchy name with sufficient pop can cause angst. Cornel Olivier and Chris Baldyga, partners in 2 Lads, an Old Mission Peninsula AVA winery, came through the name phase easily. They chose "2 Lads" because at 33 and 31 respectively, that's exactly who they are.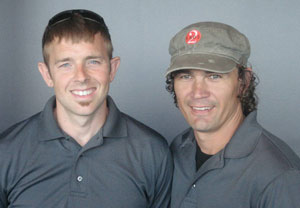 Young, maybe, but armed with experience. Olivier, a native of South Africa and graduate of Elsenburg Agricultural College with a degree in viticulture and wine science, is winemaker. His knowledge of the Old Mission Peninsula AVA extends for 10 years, working first at Chateau Grand Traverse then as head winemaker for Brys Estate before partnering in
2 Lads
.
Baldyga, 2 Lads' General Manager, worked at Chateau Grand Traverse, where his mother is operations-production manager. During his college years, summer jobs for Baldyga began in the tasting room, then graduated to vineyard and cellar work. In 1999, he worked with Olivier, but eventually returned to Grand Rapids, Mich., where he landed wine buyer employment.
From Cherries To Grapes
A former
Old Mission Peninsula
cherry orchard is now 2 Lads 58-acre farm with 13 vineyard acres planted in 1999 and 2001, now in full production for Cabernet Franc, Merlot, Chardonnay and Pinot Gris (a marketing decision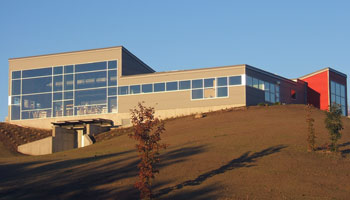 has it labeled Pinot Grigio). In 2008, nine more acres were planted that include 5.5 acres of Cabernet Franc and Pinot Noir, one acre of Riesling, one acre of Merlot, with Chardonnay as the balance. There are other plantable sites on the farm, but currently, these are not on the drawing board.
Varying soil profiles allow planting of varieties best suited to soil composition. "As an example," Olivier says, "on the western side of our southern block, we have significant clay (about four feet) before it hits gravel. Pinot Gris is planted there. Then, there's a 1.5-acre gravel patch where Chardonnay is planted. Pinot Noir and Merlot are in clay soils. Cabernet Franc is grown in an area of acidic, loamy-sandy soils. It's working well so far with yields of four to six pounds per vine (about 3 to 3.5 tons per acre) on 8 feet x 4 feet spacing.
"My cropping goal is always between 3 and 4 tons per acre for red varieties. Riesling can be anywhere from 4 to 5 tons per acre, depending on soil profile and site conditions. We cut back Chardonnay to 2.75 to 3 tons per acre, but that all depends on how many vines per acre are planted. We source some Cabernet Franc and Pinot Noir from a grower who owns a heavy soil, clay profile vineyard."
The question always begs, can
Michigan
grow Cabernet Sauvignon successfully? "One farmer is trying some innovations," Baldyga says. "He's attempting to create greenhouse effects both in the spring and fall. At this point, a grower needs a huge investment to obtain ripe Cabernet Sauvignon each year on Old Mission Peninsula. The bottle price would need to be $30 to $40 to make the planting worth it and make a decent return on investment.
"If we put a $40 bottle of Michigan Cabernet Sauvignon against one in that price range from a region that can easily ripen the variety, people might buy it once, but they won't be back for a second or third bottle, much less a case."
The 2 Lads plan to focus on Merlot, Pinot Noir and Cabernet Franc in the 10,500 sq. ft., multi-level, gravity-flow winery. In the production model, the current ratio of white wines to reds is about 50/50. Eventually, the ratio will be 70/30 red to white.
"In the last five years," Baldyga notes, "there's been a big jump in quality for red varietals, not only on Old Mission Peninsula, but elsewhere in the state. Wineries and growers have started to nail the correct clonal selections for their site. Vineyards are being well-groomed with effective canopy management."
When asked about cover crops, Olivier responded that "It's hard to do a cover crop on Old Mission Peninsula." He cites winter snow and during the winter is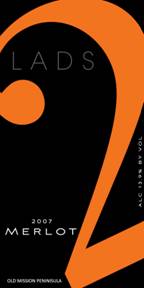 when a grower wants a cover crop to replenish his fields before going into bud break. "On Old Mission, seeding of cover crops must be delayed until there's some vine growth. That brings about competition with bud break as the cover crop uptakes nutrients needed by the vines."
This ties in with organic viticulture's possibilities in northwest Michigan vineyards. "We're in a direction," Olivier comments, "where we are moving away from synthetic fertilizers and doing composting. Disease pressures in this climate are the major drawback. Insects could probably be managed, but that's best done by a cover crop and we've just discussed that issue. I suppose a farmer could leave a late-sown cover crop long, instead of mowing it like a golf course. The cover crop might function well when seeded with the proper wild flowers that attract predator insects, but it's the humidity and disease pressures arising from the climate that we can't counteract."
Olivier points to significant wind that helps dry the vines after fall rains. And although he cited the negatives surrounding fully organic practices, we got the distinct feeling that when all other elements of 2 Lads are in place and meeting business goals in the long term, he just might experiment with more organic practices in at least part of the estate vineyard.
"Now, in the last quarter of 2008," Olivier concludes, "we're right on track where we want to be with our business model that will eventually build to 5,000 cases annually. In the last ten years, the length of time I've been on the Old Mission Peninsula, there has been massive growth, with wine quality improving every year.
"Growers are now trusting their sense of what needs to be done in their vineyard. In the past, they looked to their neighbors and followed what they were doing. Now, they are more conscious of what will work best for their site. The major advantage of growing grapes and making wines in Michigan is that it's a fast-growing industry."
2 LADS TASTING NOTES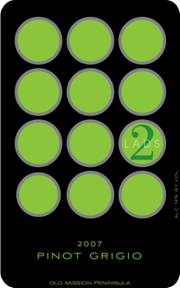 From the 2007 vintage, a phenomenal northwest Michigan growing season, where varieties were harvested between 25 and 27 degrees Brix, current estate-grown releases include both a dry and off-dry Pinot Grigio, a dry Rosé of Cabernet Franc, Chardonnay and a limited release of Steel Cabernet Franc. Currently still in cooperage is Merlot, Cabernet Franc and Cabernet Franc Reserve.
Pinot Grigio (dry)
($16) brims with white floral, pear and peach aromas.