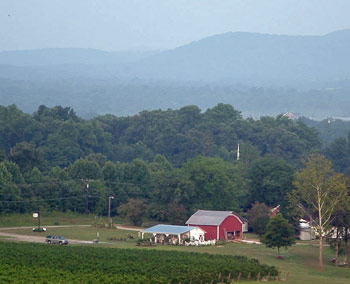 North Carolina Wine Awakening
as New Swan Creek AVA Emerges
by Barbara Ensrud
September 18, 2008
---

ou know a young wine region
is coming of age when it begins to define and delineate smaller appellations within larger ones. The seven counties that make up the
Yadkin Valley
AVA, North Carolina's first, now have a new appellation tucked in the southwest corner:
Swan Creek
, officially designated on May 27, 2008. Named for the creek system that is a tributary to the Yadkin River, which forms its northern boundary, the Swan Creek region is situated some 40 minutes west of Winston-Salem, straddling Highway 421 as it crosses Interstate 77 and winds northward into the Blue Ridge Mountains.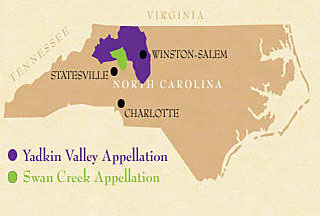 The Swan Creek AVA encompasses 96,000 acres. Currently, there are only about 120 acres in vineyard - plenty of room to grow, obviously, and I'm betting that will happen as wines from the new appellation become better known. Swan Creek boasts a mere handful of wineries so far: Buck Shoals, Dobbins Creek, Laurel Gray, Raffaldini, Shadow Springs and Yadkin Valley Wine Company. But the quality of the wines is steadily increasing and a couple of them offer intriguing potential for winegrowing in the mid-Atlantic.
Sixty percent of Swan Creek overlaps the Yadkin Valley AVA. The two share similar climate and growing conditions, with subtle yet distinctive differences. Swan Creek averages 48.6 inches of rainfall annually; much of the Yadkin averages 57. In rainy years such as 2003 and 2004, those 10 fewer inches can make a difference, especially when the rains come, as they often do in hurricane years, during harvest.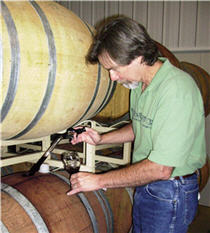 "We're a little cooler than southern regions of the Yadkin," says Stephen Rigby, winemaker at Raffaldini Vineyards, "but a little warmer than the northern-most areas. By mid-August we see temperatures cooling down at night, which helps retain acidity as tannins continue to mature. Most of Swan Creek is at elevations of 1000 to 14 or 1500 feet. The Brushy Mountains to the north are something of a barrier to rainstorms, and the constant breezes that sweep through dry us out more quickly in wet weather, which helps minimize fungus problems."
Soil composition is also a bit different. The rocky schist formed from granite deposits not only provides good drainage, it is laced with minerals that give some Swan Creek wines an appealing zest and steeliness, particularly in such varieties as Pinot Grigio, Vermentino and Viognier. That brings up another of Swan Creek's distinctions, the innovative planting of unusual Italian varieties that seem to thrive here: Vermentino, a lesser-known white variety grown on Sardinia, in Liguria and southern Italy (as well as Spain and the south of France), and Montepulciano - the grape, not the town in Tuscany - best known for the very agreeable Italian red, Montepulciano d'Abruzzo.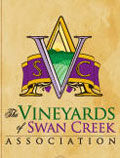 Sangiovese and Pinot Grigio are widely grown in the Yadkin Valley, and are continuing to expand as well. But, in my view, Vermentino and Montepulciano could prove more exciting in the long run - Vermentino for its bright mineral and citrus flavors, Montepulciano for its deep, rich color and juicy red fruit flavors. So far, acreage for both varieties is very limited, 8 to 9 acres each, grown only at Raffaldini.
Here are profiles of some of the veteran wineries in the Swan Creek AVA:
Raffaldini Vineyards
: With some 3300 cases, Raffaldini is Swan Creek's largest winery, as well as its most prominent, with a stunning new tasting room, Villa Raffaldini, which opened in the spring of 2008. The handsome two-story stone and stucco building, styled in the manner of an Italian villa, commands a sweeping view of Raffaldini's sloping vineyards. With its red tiled roof and terra cotta patio surrounding an ornate stone fountain, it appears to be transported straight from the hills of Tuscany, complete with elegant landscaping, winding paths and reflecting pools.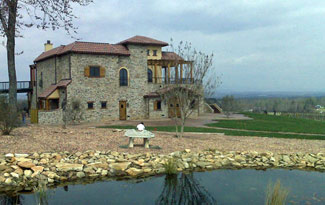 The Italian connection is real. The Raffaldini family hails from Mantua in the Lombardy region of northern Italy, where family records date Raffaldini land holdings to 1348. True to their heritage, the Raffaldini family concentrates on Italian varieties. "In 2002, we planted twenty varieties, French and Italian, knowing we would narrow down," said Steve Rigby.
They've since pulled most of that twenty, eliminating Chardonnay, Viognier, the Cabernets, Merlot, Syrah, even Italian varieties like Dolcetto, Barbera and Primitivo. Not that French varieties don't do well - other Swan Creek wineries make good wines from them - but the Raffaldinis wanted to focus on the best-performing Italian varieties.
"We've got 40 plantable acres here, and we're close to that now," Steve continued. "We've kept Petit Verdot and Malbec, which do well for us in blends, also Pinot Grigio, and Orange Muscat, which I will make dry or sweet, probably both. We grow five clones of Sangiovese, two of which make bigger, darker wines that we will use for Riserva. We've expanded our acreage in Vermentino and Montepulciano, and are adding Aglianico in the spring of 2009. Eventually this may give us 7500 cases.
"It's fun to work with these new varieties to see what they'll do; we're learning as we go. I'm pleased with what we're doing so far, getting better balance, more elegance and nuance in the wines."
Raffaldini 2007 Vermentino
: Racy and stylish, the '07 is the winery's best yet, with accents of mineral zest and crisp citrus flavors.
(see full review)
Raffaldini Sangiovese Riserva 2006
: The light color of this wine is a bit deceiving; it has fairly expansive aromas and flavors of wild cherry, somewhat wiry in the manner of young Chianti but long in finish and likely to improve with two to three years in bottle.
Raffaldini Montepulciano 2006
: The deep blackish purple color of this wine heralds concentrated black fruit flavors and rich texture.
(see full review)
Buck Shoals Vineyard
: Named for a nearby creek famed for its grist mill, Buck Shoals is owned by the Crater family. Several generations farmed tobacco, corn and other crops here, until Terry and