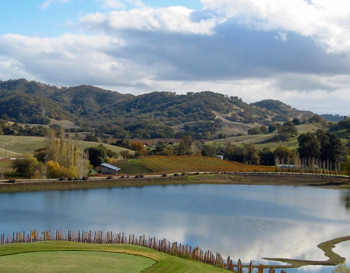 Hestan Vineyards Is Off the Beaten Track but Its Grapes
are Right on Course
From the far reaches of the Napa Valley come the sweet sounds of pots and pans...really!
by Alan Goldfarb
January 15, 2009
---

t's sort of like
sitting in the back row of the expensive seats. Nonetheless, there it is – if one squints hard enough at a good size map of the Napa Valley, you can see
Hestan Vineyards
, the 41-acre vineyard that belongs to Stan and Helen Cheng. For a closer look at the vineyard, which is located in the nether-reaches of the Napa Valley, you'd be better off with a map of Suisun Valley or of Solano County. Because Hestan's parcel, from where about 5,000 cases of Cabernet Sauvignon, Merlot and Syrah are sourced each year, is far closer to the northeastern San Francisco Bay cities of Fairfield and Vacaville than it is to the town of Napa.
Situated about two miles as the raven flies from the Solano line, and even less than that from the
Suisun Valley
appellation, the Hestan Vineyard, in the southeast corner of Napa Valley, sits on Gordon Valley Road, not far from Napa's just-as-obscure Wooden Valley.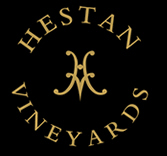 It is from there, under the watchful but integral reaches of the 1,130-foot high tendrils of Okell Hill, that two winemakers (count 'em) produce wines that sell from $40 to $165. The vineyard, planted in 1998, is ensconced in a bowl that features undulating terraces that climb from 300 to about 450 feet in elevation.
In the early days, before Stanley Cheng began thinking of making wines of his own, the fruit went to Clos du Val and Hagafen. Now, Cheng, who is the head of a company that manufactures Anolon and Circulon cookware, has his two-headed winemaking team turn out wines for three labels – Hestan, Meyer, and Stephanie.
Why two winemakers?
And how did he come to plant vines in a region so far removed from the Napa Valley floor that one needs a compass and a good set of tires to reach this outpost of his redoubt?
The simple answer to the first query is that Cheng apparently wants to hedge his bets. Of Mark Herold, who made his bones at the
garagiste
Merus Wines, and who makes wines under the Hestan and Meyer brands, Cheng says Herold has "a big style". For the newly released Stephanie wines (named for his harp-playing daughter, hence the instrument on the label), Cheng uses the "elegant" touch of Jeff Gaffner.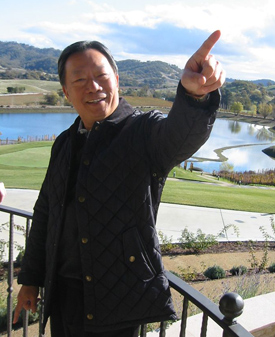 The duo, Cheng answers, make "totally dramatically different wine in style and temperament. Jeff is even-tempered and Mark sets out to make wines similar to Merus"; in other words, big and bold.
Gaffner, who has been making wines for 25 years, was the oenologist that worked with Chateau St. Jean's famed Cinq Cépages Bordeaux blend, and makes his own wines under the Saxon Brown label. He also plies his trade for Xtant, Black Kite, and Edgewood Estate. Herold, who founded Merus and recently sold it to the increasingly aggressive Foley Wine Group, also makes wine for Kobalt, Kamen, and Celani.
(The Stephanie wines are made at the Laird Family custom-crush facility north of the city of Napa, while Herold makes the other wines at Mi Sueño and Caldwell, both also in Napa. A
Chardonnay
from the only vineyard in Vallejo, in front of Cheng's offices, is also produced.)
How does Gaffner feel about sharing winemaking duties with another? "I love it," comes the expedient answer, one fine but blustery winter day while standing high above the vineyard on the terrace of Cheng's grandiose villa. "We have our own styles and signatures; and there are different colors. Perhaps if I was younger, I'd be threatened."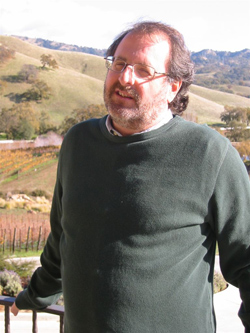 As for the second question, Cheng (who named the vineyard as a contraction of the first names of himself and his wife), wanted to be a part of the Napa Valley. The former cattle-grazing property was apparently the most suitable parcel that would allow him to still be inside the county line. Additionally, a neighboring vineyard, Nepenthes, sells its grapes to Stag's Leap Wine Cellars, Beringer, and Duckhorn.
As for the aforementioned Okell Hill, the rise is instrumental in blocking out the scorching sun early in summer, which enables the grapes to cool and not shrivel.
"If you didn't have the hill, the vineyard would be affected," says Cheng. "You are in a hot part of the Napa Valley, but not as hot as the floor in Rutherford and Oakville, and cooler than Calistoga."
Gaffner knows and appreciates the site well. "We have microclimates that get three of the four exposures," he explains, pointing to the various blocks. "There's the inside and outside terrace phenomenon (where the outside of a terraced block is more fertile, as well as being where the wind hits first).
Diversity in the Vineyard
"This site-signature is diversity. It sounds like BS, but it really is (diverse). Budbreak is earlier than on the valley floor (and) our challenge is to create hangtime, which means no irrigation until the last possible minute. It's a temptation (to water) if you want to get the numbers (but) I call it 'Murder by Numbers,' because you can pick here in mid-July(!), early August. … (So) it's about vine balance. If we drop too much (fruit), we'd be back to picking in July."
Gaffner has never worked with a vineyard quite this diverse. "That's the excitement of it," he says. "There are very few places like this. Good God, look at all these options."
How does all that manifest in the glass? "There is a complexity that comes to the wine," says Gaffner, who just had his first Stephanie wines released with the 2005 vintage. "There are pretty, aromatic tones and structures (and) I'm anxious to see how they age. (I think) they'll age quite well. "I don't like to make big, prune-y wines … with lower alcohol. Stan likes them, too."
To which Cheng rejoinders, "Lower alcohol sounds pretty good, but that's a challenge. We have so much more heat here."
Cheng insists that he's not interested in building a winery in Gordon Valley; after all, it's not an easy place to find. Besides, tourists who come to the Napa Valley, rarely if ever, get to the backside of the region. Thus, he's thinking about finding a "small" winery along the Silverado Trail that might be for sale.
In the meanwhile, looking after a vineyard in the back row of the expensive seats where the Napa Valley peters out to where few have been seems to rattle Stanley Cheng's pots and pans with a sweet sound.
---
Photos by Alan Goldfarb