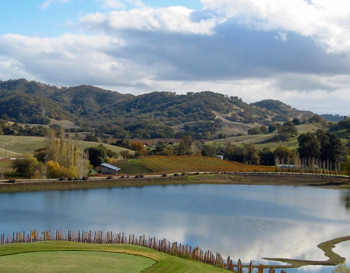 Hestan Vineyards Is Off the Beaten Track but Its Grapes
are Right on Course
From the far reaches of the Napa Valley come the sweet sounds of pots and pans...really!
by Alan Goldfarb
January 15, 2009
---

t's sort of like
sitting in the back row of the expensive seats. Nonetheless, there it is – if one squints hard enough at a good size map of the Napa Valley, you can see
Hestan Vineyards
, the 41-acre vineyard that belongs to Stan and Helen Cheng. For a closer look at the vineyard, which is located in the nether-reaches of the Napa Valley, you'd be better off with a map of Suisun Valley or of Solano County. Because Hestan's parcel, from where about 5,000 cases of Cabernet Sauvignon, Merlot and Syrah are sourced each year, is far closer to the northeastern San Francisco Bay cities of Fairfield and Vacaville than it is to the town of Napa.