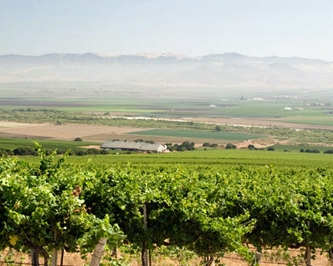 Reshaping The Wines
At Talbott Vineyards
Winemaker Dan Karlsen seeks maximum expression from Chardonnay and Pinot Noir at Monterey winery's famed Talbott Vineyards.
by Laurie Daniel
February 10, 2009
---

inemaker Dan Karlsen was his own boss
and enjoying it. Disenchanted with corporate culture, he had left Chalone Vineyard - owned by beverage spirits giant Diageo - after the 2006 harvest. He was working on his own tiny project, Chock Rock Vineyard, and was making the wines for Graff Family Vineyards. Enter Robb Talbott of Monterey's
Talbott Vineyards
.
Talbott knew that he needed to make some changes. Despite drawing on a couple of outstanding estate vineyards, the Talbott wines weren't quite what they should have been. The Talbott wines made from his renowned Sleepy Hollow Vineyard in the
Santa Lucia Highlands
often didn't quite stack up to the wines that others, such as Testarossa Vineyards, Arcadian Winery and Hope & Grace, were making from the fruit he sold to them.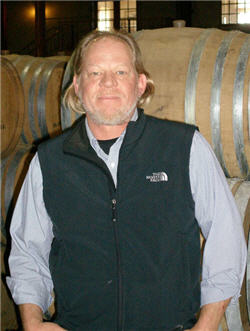 Karlsen was hesitant, but he was intrigued by the opportunity to work with Talbott's Sleepy Hollow and Diamond T vineyards. "I just thought: what a great opportunity," Karlsen says. He became Talbott's consulting winemaker in April.
When I spoke to Karlsen last summer, he told me that "it's going to take me two years to figure out what's what in the vineyards." But now that he has one harvest at Talbott under his belt, he has some thoughts about the vineyards and how best to express them in his wines. Karlsen was accustomed to the more extreme conditions of Chalone Vineyard, which is extremely dry and can have big heat spikes during the growing season. So the conditions at Sleepy Hollow came as something of a pleasant surprise.
"I'm really blown away by how perfect Sleepy Hollow is in terms of a grape growing site," he says. The 450-acre vineyard, which is actually divided into two non-contiguous parcels (known as Sleepy Hollow A and B), is at the northern end of the Santa Lucia Highlands AVA. The days are cool, and there aren't problems with either frost or excessive heat. The soils are sandy, with lots of rock, and Karlsen says he can control vigor through irrigation. It's a homogeneous site, with even ripening. The grapes have naturally high acidity, so Karlsen doesn't need to add acid, "which is kind of an anomaly to me," he says.
The main issue at Sleepy Hollow, as it is throughout the Salinas Valley, is wind. The upper part of the vineyard, in particular, is tucked into the hillside and is more sheltered. But it's still a fairly windy site and, for that reason, Karlsen thinks it's best suited to
Chardonnay
.
The Wind Beneath My Skins
The wind, he explains, toughens the grape skins. For
Pinot Noir
, that means the skins don't break down as readily during fermentation, so a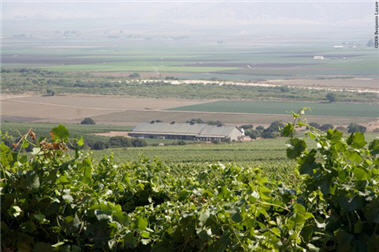 winemaker gets less extract and color. Karlsen is of the opinion that less-windy sites produce better Pinot. "Most of our Pinot is tucked back up against the mountain," he says, "and it's as sheltered as you can pretty much get it. I don't know if that's by intent or if we just lucked out." As for Chardonnay, Karlsen says, tough skins can be a benefit. White wines are pressed off the skins early, and tough skins interact less with the juice, resulting in less astringency.
Diamond T Estate is a whole different animal from Sleepy Hollow. It's a very rocky, low-vigor 24-acre site perched at about 1,200 feet above
Carmel Valley
. Robb Talbott planted it in 1982 with the Corton-Charlemagne Chardonnay clone. "It's a place I don't think we would normally plant grapes because it is so tough," Karlsen says. "Because of its stress level, it tends to have more of that sort of mineral streak than Sleepy Hollow does. But at the same time you're fighting desiccation. You're fighting some viticultural issues that oftentimes might transcend terroir. … It produces a more distinctive wine, certainly, because of stress. I think if we were to get more water and nutrients, maybe we'd see a different animal."
By contrast, at Sleepy Hollow, "being such a perfect grape growing site, you make sort of perfect wines," he says.
Still, he thinks there's more that can be done to coax maximum expression out of the vines at both sites. At Sleepy Hollow, he's planting a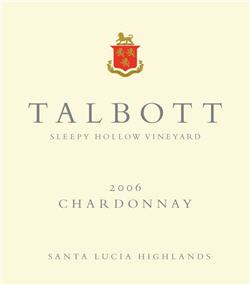 cover crop and moving toward sustainable practices. He's experimenting with different pruning practices. Much of the vineyard is on its own roots, and there are problems with nematodes. Karlsen plans to tear out about 50 or 60 acres, let the land lie fallow for a couple of years, then replant on nematode-resistant rootstock. The plan, he says, is to use mostly Dijon clones, as well as some of the Corton-Charlemagne Chardonnay clone from Diamond T.
He notes that the Dijon clones of both Chardonnay and Pinot Noir are very successful at Sleepy Hollow. "The Dijon Chardonnays are stunning here," he says, compared with how they performed at Chalone where they accumulated sugar too quickly. As for Pinot, "We see a huge difference between the old Martini plantings and the new Dijon plantings."
He elaborates: "The Martini clones are rustic and edgier. The flavor of the Dijon clones is more fine and a pure expression of Pinot Noir. A similar comparison can be made with the Dijon and Wente clones (of Chardonnay), with the Dijon being the finer of the two and the Wente being more rustic and bigger. … The Dijon clones are also better for aging."
At Diamond T, the main goal is to build up what little soil there is. "We're going to convert Diamond T to 100 percent organic," Karlsen says. "That's going to start this year. I think that by putting in cover crops, putting in some plants that will be nitrogen-fixers and building some nutrients in the soil, we'll make a better wine."
The New Talbott TLC
Karlsen has been making changes in the winery, too, to treat the fruit with more care. A new 15,000-liter press was purchased that can accommodate whole-cluster pressing for all the Chardonnay, generating less astringency. He's fermenting his Pinot Noir at higher temperatures and punching down rather than pumping over to minimize tannins. In the past, none of the Pinot Noir was aged in new oak barrels; Karlsen used about 20 percent new barrels for the 2008 vintage and plans over time to increase that percentage to about a third.
He's eliminated all fining of the wines. And while some of the wines - such as the top Chardonnay cuvées - haven't been filtered in the past, Karlsen plans to run everything through a cross-flow filter, which he doesn't think harms the wines in any way. "Not filtering Pinot Noir is a disaster, and no