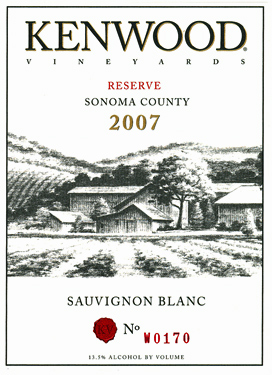 Sonoma County (County Appellation)
Kenwood Vineyards' Sauvignon Blanc:
The Evolution of Winemaking Styles
Kenwood Vineyards' Sauvignon Blanc has been its most popular wine for over a quarter century, no doubt in part due to winemaker Pat Henderson's palate friendly, terroir sensitive, and consumer-conscientious, winemaking style.
by Rosina T. Wilson
March 26, 2009
---

f you had to name specific wine varietals
that best reflect their place of origin, and that are also highly sensitive to nuances in their vineyard surroundings, which ones would come to mind? Chances are that Sauvignon Blanc wouldn't top - or maybe even make - your list. After all, the vines will grow just about anywhere. But for the sake of argument here, let's compare them to the finicky vines of Pinot Noir.
Although Sauvignon Blanc can tolerate a broader range of vineyard conditions than Pinot Noir can (especially at higher temperatures, which are lethal to Pinot's fruit and acids), the finished Sauvignon Blanc wines will taste vastly different from region to region – much more, in fact, than one might expect. As senior winemaker J. Patrick Henderson of
Kenwood Vineyards
puts it, "Sauvignon Blanc shows some of the broadest and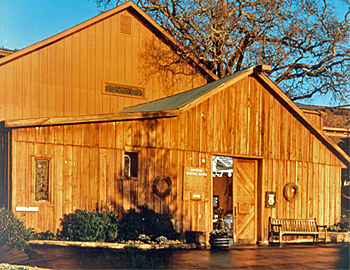 most interesting range of character among all the major wine varietals -
depending entirely on the area where it's grown.
"
Chalk up another win for terroir. And also for the old real-estate maxim, "location, location, location," for that matter. Though we may be unaware of how powerfully such factors as climate, soil, and exposure, for instance, can influence a Sauvignon Blanc vineyard, their effects can make or break the wine that ends up in your glass. Any misconceptions we may have formed – by perhaps equating "grows well in many different locales" with "grows identically in many different locales" – quickly vanish when we look at a well-made wine that makes full use of terroir-driven variation.
One excellent way to accomplish this is to draw from a wide range of vineyard sources – each showing key characteristics of its place of origin – and then blend your sample lots to meet whatever criteria you decide on. "You have a bit more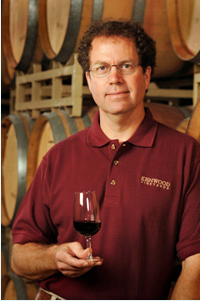 leeway here to achieve the overall flavor profile you're looking for, if you can work with fruit from different regions," says Pat Henderson, "rather than with an estate- or vineyard-designate wine program."
This approach compares to that of an artist painting a particular scene – with orange poppies, a pale blue sky, a deep green pine forest, say – and mixing the necessary pigments to achieve just the right colors. It requires a great deal of skill to do this, both for the painter and the winemaker. And Pat Henderson, who has been with Kenwood Vineyards for over 25 years, applies this "blend to a given standard" method (in his case, a standard that he himself has set) with great skill indeed.
When I first spoke with Pat, he was evaluating the components of his final 2008 blend for Kenwood Vineyards' flagship Sonoma County
Sauvignon Blanc
. (This has been Kenwood's most popular wine, he tells me, for 28 years. Not bad for a widely ignored white varietal that otherwise lags far behind Chardonnay in the marketplace!) Although the wine is 100 percent Sauvignon Blanc, it shows tremendous complexity, owing to its many and diverse vineyard sources throughout Sonoma County.
Mix and Match Vineyards
"We have some excellent, fog-cooled vineyards in the Sonoma section of the Carneros," he notes. "The fruit retains a little of its 'green,' herbaceous character, but rather than dominating the blend with the typical methoxypyrazine aromas of unripe or canned vegetables, it provides some softer, more perfumey herbal notes such as juniper and boxwood."
The Side Dish
Since talking about wine generally leads me to talking about food, Kenwood's Pat Henderson and I soon started comparing notes on our food-pairing favorites with Sauvignon Blanc. And later on, when I tried samples of both the Sonoma County blend and the crisp Reserve at the dinner table, I noticed some not-always-subtle differences in how they reacted with several different dishes.

Pat, like me, enjoys both of his Sauvignon Blancs with "anything that comes from the sea," and described the wine's "clean, tangy flavors" as an especially fine counterpoint to rich shellfish. He also likes to use the wine's high acid to cut through simple cream sauces for fish or chicken (we both compared it to a fresh squeeze of lemon), and he also considers it a great choice with Asian food.

Like Pat (and unlike many mainstream wine drinkers), I love a little Sauvignon Blanc before dinner, while cooking, but if I were to split hairs, I'd prefer to save

the rather austere Reserve until the food is ready. As we had imagined, both of the wines proved to be wonderful with oysters, but in different ways. The clean, pungent Reserve enhanced the bivalves' briny, mineral character, whereas the Sonoma County blend, I found, seemed more like a tropical fruit salsa in a glass. And tasting them side by side actually seemed like having two entirely different varietals, rather than two different regional blends of the same varietal.

Garlicky scampi brought out the sweet citrusy aromatics (lime peel, grapefruit and exotic varieties of lemon) of the Sonoma County, as well as a pleasant muskiness in the Reserve. And a creamy Sonoma goat cheese, with just crackers, made for a simple yet delicious "cream cheese and jelly effect" with the fruity Sonoma County, but when I added some fresh marjoram to the cheese, the Reserve stepped up to the plate and knocked the match up out of the great green park.
~RTW
Further north, thanks once again to a pervasive blanket of fog, the
Russian River Valley
AVA brings in some of the same pleasantly green descriptors, as well as a similarly high level of acidity to that of the
Carneros
. Then, as you follow the warmer weather eastward along the river, Sauvignon Blanc's crisp, bright aromatics start to turn noticeably mellower, and the cool-climate herbs and freshly cut grass yield to lemongrass, tangy citrus and ripe apple as you cross through
Dry Creek Valley
.
By the time you reach the warm, inland
Alexander Valley
, Sauvignon Blanc's fully ripe fruit descriptors have begun to express themselves, and the peach, apricot and nectarine become more prominent. You may even pick up such exotics as tropical mango, guava and lychee in the finished wine, especially if you let it warm up a bit in your glass.
Along your journey, you'll also notice some of the many different ways that Sauvignon Blanc vineyards can fit into the landscape. They cling to steep rocky slopes, they snake along rolli