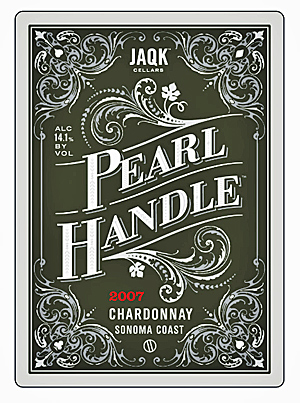 California (State Appellation)
JAQK Cellars Plays Its AVA Cards Right
A distinctive wine growing area, or AVA, brings wine its diversity. Yet, one might ask, what is the potential for distinctive wines stemming from blending a panoply of specific AVA characteristics?
by Eleanor & Ray Heald
March 27, 2009
---

eadquartered in San Francisco
,
JAQK Cellars
is playing its cards right to craft a royal flush portfolio which showcases the art of AVA blending. JAQK (Jack, Ace, Queen, King) may have been testing its luck or even tempting fate, yet winemaker Craig MacLean believes he's rolled the AVA and terroir dice well with a full house of JAQK wines.
In producing a harmonious blend of AVAs, two elements are at play: the actual appellation and the influence of the microclimate on grape quality, plus the way each fraction is made.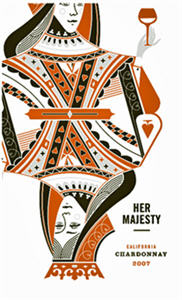 Since
Chardonnay
remains the best selling varietal wine in the U.S., it's a good deal of the wine cards. In the JAQK portfolio, Her Majesty 2007 California Chardonnay features the regal Queen of Hearts as label art and blends a majority of
Rutherford
AVA Chardonnay with five percent
Sonoma Coast
AVA grapes.
"Because of its Rutherford percentage," says MacLean, "it's one of the wines in the portfolio that could have had a
Napa Valley
appellation. Each fraction in the blend is a completely different style of Chardonnay."
The Sonoma Coast aspect was 100 percent barrel fermented, 60 percent new French oak, 100 percent malolactic fementation and a year in barrel with significant lees stirring. "A Burgundian style," MacLean adds. The Rutherford influence was both barrel and tank fermented, followed by 15 percent malolactic fermentation and aged in a small percentage of new oak. MacLean dubs it "more fruit forward; New World style with less winemaking influence and more grape driven.
Rutherford Chardonnay attains ripeness relatively early with abundant fruit character and acidity. "The small portion of Sonoma Coast wine," MacLean notes, "rounded out the palate perception."
The Charm of a Lake County/Napa Valley Marriage
There's more at work at a gaming table than skill. Thus JAQK 2007 California
Sauvignon Blanc
, $23, relies on a 60 percent fraction of
Lake County
's early-ripening Sauvignon and AVA floral and citrus-grapefruit characters to create a core for the wine.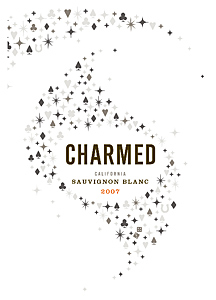 "It's similar to Her Majesty with two different blending components," MacLean contends, "in that the 40 percent Napa Valley fruit is from a 45-year-old single vineyard north of
St. Helena
AVA – one of the oldest in Napa Valley. It's dry farmed on St. George rootstock and very low yielding." That portion is 100 percent barrel fermented in seasoned French cooperage (two to three years old), does not undergo malolactic fermentation and remains on the lees for six months without stirring.
The Lake County portion targets the grapefruity, fruit forward and pungent aspects of the AVA. It's totally tank fermented, zero malolactic and tank aged. Putting those two together offers old-vine concentration, mouthfeel and the depth of the barrel fermented fraction and subtle aromas of fig and honey – not fruit forward. The steely, higher acid Lake County portion offers crispness and high-toned pungency, tempered by barrel-fermented creaminess emanating from the old-vine fraction.
"When you smell Charmed," MacLean suggests, "you get the impression of lean and steely, but it surprises the palate with creamy richness. Here's where the AVA pairing made a wine that as a whole is greater than the sum of its parts."
The Power of Dijon "Guns"
Generally, a derringer is the smallest usable handgun of a given caliber. In the gambling Wild West, these guns frequently had pearl handles and were often used by women because they could be concealed easily in a purse or stocking garter. So how does this sync with JAQK 2007 Pearl Handle Chardonnay, which bears a Sonoma Coast AVA on the label, and yet is blended with 10 percent Rutherford AVA grapes?
Frequently MacLean finds a full-blown Chardonnay style to be flat, flabby and not a good food match. The Rutherford fraction enhanced the overall complexity of a single, southern-exposure vineyard on the northern reaches of the Sonoma Coast, planted to a mix of Dijon clones at a 1,200-foot elevation (above the fog line) where shallow soils reduce yields to 2 tons per acre.
"Unlike California Chardonnay clones," MacLean explains, "Dijon clones are low yielding and therefore offer greater flavor concentration. The best thing about Dijons is that they don't throw a big crop. In this vineyard (name not revealed since another winery has sole rights to single vineyard designate), the grapes hang a long time, often longer than Carneros. The particular vineyard terroir has allowed development of a detectable mineral note."
To attain desired delicacy, the grapes were whole cluster pressed using a Champagne press program. Juice is 100 percent barrel fermented and the wine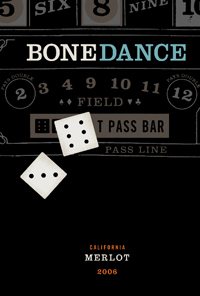 undergoes full malolactic fermentation. It remains eight months with bi-weekly stirring, in 40 percent new French oak from five different coopers and 40 percent two-year-old with a high percentage of water-bent staves for delicate and even oak flavor and tannin extraction.
A Merlot Bone Dance
Historical significance of this name is too good to pass up. Possibly, early shamans (who acted as go-betweens for physical and spiritual realms) tossed bones to divine the intent of the gods and "created" the first dice. JAQK more than tossed bones on felt with 2006 California Bone Dance Merlot. Composition is 75 percent Merlot from the Coombsville area, which is part of the proposed Tulocay AVA in southern Napa Valley. Climate is slightly cooler and soils are river rock and volcanic ash which is mineral rich.
The balancing Cabernet Sauvignon comes from the Voladores and Sunbelt vineyards in Paso Robles "for enhanced aroma and flavor complexity," cites MacLean. "Merlot from Coombsville is quite fruity, but the wine had significant black olive character too. I wanted to uplift the berry and cherry character and that's what the Paso Robles Cabernet Sauvignon did. Since the wine already had good 'bones,' it took only nine percent, but it made a huge aroma and flavor difference."
Another Shuffle of the JAQK Cards
Voladores and Sunbelt vineyards in
Paso Robles
had a minor "hand" in Bone Dance, but they constitute 83 percent of the JAQK 2006 California 22 Black
Cabernet Sauvignon
. However, here's where merely citing

READER FEEDBACK: To post your comments on this story, click here
Print this article  |  Email this article  |  More about California  |  More from Eleanor & Ray Heald