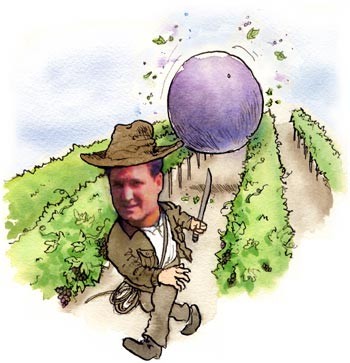 Chris Pearmund's quest for the Holy Grail... National Recognition for Virginia Wine
"I believe better national distribution of quality wines will help Virginia to be taken more seriously. If we can ship directly to wine shops and restaurants across state lines, then……"
by Mark DeWolf
January 28, 2004
---
AA:
Chris, you have been directly involved in the Virginia wine industry for more than two decades in a number of capacities. You have witnessed and contributed to the resurgence of one the nation's most historically important wine producing states. How far along is the Virginia wine industry in terms of reestablishing itself as one of America's elite wine producing states?
CP:Prohibition started in 1920 and ended in 1933. For Virginia wineries, it was 1971 with the Farm Wineries Act which allowed a winery to sell it's product at the winery. Wineries began opening in 1975, now there are 80+ wineries and still climbing. Moving from infancy through adolescent in the past few decades, Virginia now leads the East Coast in quality with a bright future. Virginia has had a best of show in San Diego, a best wine from the Atlanta Wine Summit, and, on a ratio of national production, a higher percentage of national gold medals than nearly any state.
AA:
Do you feel producers in Virginia have received the credit they deserve from the national wine media?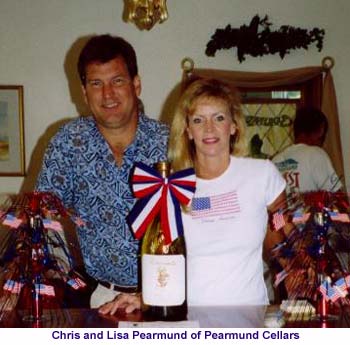 CP:I think we are now a bit undernourished by the National wine media. However, in the past there was inconsistency in wine quality, or few consistent stars. Too many small producers only regionally distributed, and too many producers were not dedicated to making wines up to their potential best. Therefore, it's a difficult argument to make that we've been neglected in the past. But the same has been true with most emerging wine regions. However, that is changing fast in Virginia with better distribution and consistent quality from dozens of producers.
AA:
With the increase in quality of Virginia wines, is there any reason for the continued lack of attention?
CP: Virginia has a difficult time duplicating west coast quality in large production, low priced and nationally distributed wines. However, in the $15-$25 category, the competition and value are there and Virginia deserves far better media coverage. When I read about an imported wine with only a hundred cases produced, and an average score in a national wine magazine, I ask why wines from the oldest producing state are not rated in the national media, even when we have higher production, better distribution, and sometimes a higher score. It gets under my skin.
AA:
Across America, particularly in California, Oregon and Washington, there has been an increased awareness in the media and by consumers of the relationship between 'terroir' and the resulting wines. Perhaps some of the strongest evidence of this trend is the proliferation of officially recognized American Viticultural Areas (AVA), both in the TTB (Tax & Trade Bureau) register, as well as on wine labels and marketing campaigns. Virginia currently has 6 official AVAs that, with the exception of Monticello, are rarely used for promotion. In your opinion, is it time for Virginia to explore further AVA delineation?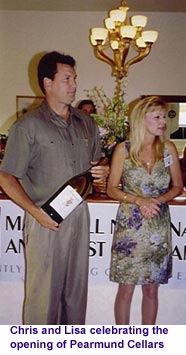 CP: Yes, it's time, and we are working on it slowly. AVA designation helps market wines outside the immediate region, and AVA identity is what is needed to help 'break-out' for those who want new markets. Virginia is conservative and many wineries are happy with the local market. A small winery has no traveling, outside reps, or distributors, and they're not selling wine a dollar or two over cost. A family and few employees can live well on 5,000 cases per year sold at the winery.
AA:
Your winery and vineyards do not fall within the boundaries of any of the current AVAs. You are not alone in this exclusion as many other highly respected wineries are located in your vicinity. Is there interest in creating a new appellation in the Northern Piedmont region of Virginia where more than a third of the state's vineyards are located?
CP: We would like an AVA in the northern Piedmont, most likely three of them.
AA:
Would the boundaries of any of the prospective appellations extend beyond the Virginia border to encompass vineyards in Maryland? Alternatively, could there be other cross border AVAs?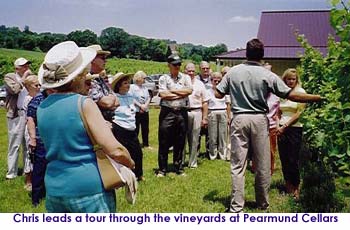 CP: Only a great deal more research would determine if it should extend in to Maryland. My general reaction is that it would not, given the easterly direction the northern Piedmont tends to follow…meaning that further north is also further east and growing conditions change; witness, there are no vineyards near the Potomac River in Maryland. A more likely scenario of a multi-state AVA would be the southern part of the state along the George Washington Parkway into North Carolina. Yet, that's still very unlikely.
AA:
How does the 'terroir' in the Northern Piedmont region differ from other growing areas in Virginia?
CP: Soil wise, the Northern Piedmont region has 3 basic substrates and scores of soil types. Decomposed granite at higher elevations, then various schists, then Epodite Chloride at lower hills. Often elevation dictates wine styles, with later and cooler harvests at more northern and higher vineyard regions; and, in the center of the state, bud-breaking and ripening 10-20 days earlier, often picking in warmer days. An eastern slope with north/south row orientation is best for early sunlight interception, burning off the dew to reduce disease pressure, as well as protection from mid-day sunburn. This also results in riper fruit having higher sugars and lower malic acid content.
AA:
Virginia's heat and humidity have been the nemesis of Virginia viticulture since the earliest colonists. These climatic challenges have forced Virginia to be on the leading edge of research into cultivar and clonal selection. Has this research influenced the varietal or clonal choices you have made in your vineyard?
CP: Yes, and it's very important. Varietal, clonal and rootstock choices are on our forefront for wine quality and vine health. Cold hardiness plays a major factor, as well. Our vineyard was an eight year experiment with nine varieties, different rootstocks and trellis designs. This was done from 1976 to 1984. I planted what did best -Chardonnay. Now I am planting 7 new Chardonnay clones this year, all on 3309 rootstock. I have several clones now, and am still working it. For the winery, we source grapes from several area vineyards. North facing, higher elevation for Riesling, for example, and southern facing vineyards for Bordeaux reds, all being soil specific.
AA:
In vineyard development, there is often a compromise made between varietal selection based purely on ecological suitability and the consumer recognition and marketability of the variety. Are there any varietals ideally suited to Virginia's growing conditions that you would like to explor