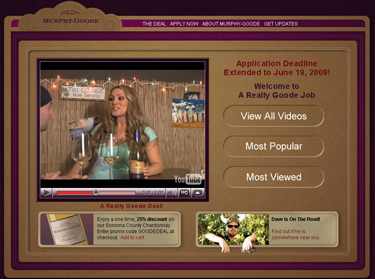 Wine & Video: BFFs* …
…or Strange Bedfellows?
Wineries and wine bloggers are discovering the vast potential of wine-related videos on the Internet.
by Courtney Cochran
May 27, 2009
---

ortunately, there are a growing number of wise wine ambassadors doing online video right. Whether by way of clever storylines, stellar technical skills or outstanding subject matter (in some cases a combination of all three), my top picks for oenophiles doing online video succeed in bringing brands to life – not to mention furthering viewers' knowledge, appreciation and enthusiasm for the good stuff. And that benefits everyone in the wine biz – cheers to
that
.
A Really Goode Idea
- Sonoma's
Murphy-Goode Winery
, a family business that's been around for nearly three decades, had a somewhat staid brand image. But thanks to a recent stroke of PR genius, the brand's now a
hot commodity
in the online and offline worlds; and video is the key vehicle behind all the fuss.
A Really Goode Job
, the name and web address behind the winery's winning new initiative, is now home to some 500 and counting one-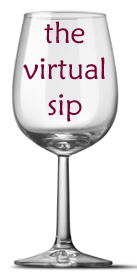 minute videos submitted by applicants for what Murphy-Goode is billing its "Wine Country Lifestyle Correspondent" job – an opportunity to earn $60,000 while wining and dining (and blogging,
vlogging
and
Tweeting
about the experience) in Sonoma for six months.
The result? Media outlets from as far away as London and India – along with domestic heavyweights CNN, ABC, NBC and scores of others – have picked up the winery's "dream job" story, and the winery has just extended the submission deadline in response to the overwhelming outpour of entries.
Bottom line: By the time it's all over, the brand will have successfully leapfrogged from me-too family-run winery to wine industry social media stalwart – and will no doubt move more than a few extra cases along the way. A really Goode idea, indeed.
Days of Thunder
- A wine video roundup wouldn't be complete without mention of the "granddaddy of wine social networks" (thanks for the handle,
VinTank
) – Internet phenom and wine-trepreneur
Gary Vaynerchuk
A near-household name today, thanks to his phenomenally popular
Wine Library TV
daily Internet show (also known as "The Thunder Show"), Vaynerchuk is without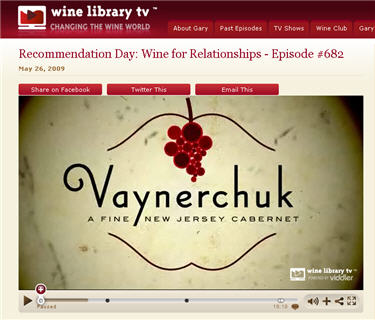 a doubt the biggest success story where wine and video are concerned. And while his video program – which commands upwards of 80,000 viewers a day – is undeniably influential, it hasn't been video alone that's catapulted the 33-year-old Russian immigrant to on- and offline stardom.
To wit, Vaynerchuk credits his accessibility and authenticity – facilitated by his adept use of the web's newest social tools, including Tumblr and Twitter – for generating the kind of fanatical following that's landed him on CNN and talk shows like
Late Night With Conan O'Brien
(where he famously convinced the host to lick salted rocks to illustrate a wine tasting concept) and
The Ellen Degeneres Show
.
His hard work is paying monetary dividends, too: Sales at Vaynerchuk's New Jersey bricks and mortar wine shop totaled some $50 million in 2005 (the last time he reported sales) and he just recently inked a
seven-figure book deal
with HarperStudio.
Bottom line: Talk about leveraging online video to build a brand and grow sales! And the fact that Vaynerchuk did it all (mostly) single-handedly using free tools available to everyone on the Internet proves just how effective online video can be as part of the traditional marketing mix.. Bringing the thunder, indeed.
Paradise Found
- Napa-based sales and marketing company
Wilson Daniels Ltd
upped the appeal of the wine properties it represents when it hired filmmaker Bret Lyman – winner of the Trophée Spécial for "Best Short Film" at the 2008
Oenovideo International Grape and Wine Film Festival
in Gruissan, France – to produce a series of lush, short documentary-style films about its clients.

Featuring such gorgeously film-friendly spots as Champagne's Champagne Salon, Burgundy's Domaine Faiveley and Hungary's Royal Tokaji, the
films
transport viewers inside producers' homes and chateaux, in doing so creating a far more intimate connection with the brands than would be possible, short of a plane ticket and personal visit. In other words, the videos succeed in bridging the gap between the glass and the genesis of a wine – an accomplishment that prior to video was more or less missing from wine brands' marketing mix (sorry, but you simply can't get the same effect from still photos).
Wilson Daniels pushes fans to its film pages by way of – surprise, surprise – a well-tuned social media campaign, which includes a Facebook group and presence on wine-centric sites including
Open Wine Consortium
.
Bottom line: Wilson-Daniels' expertly produced films bring their prestigious, far-away estates to life for fans who would otherwise never experience them first hand. In all, it's a fantastic way to generate greater brand recognition and affinity among the seemingly limitless online audience. Bravo!
I'll Drink to That
- Until recently, I held the firm belief that wine videos should never (and so many of them do!) aim to replicate an offline tasting experience, as anyone who appreciates a good glass of wine knows that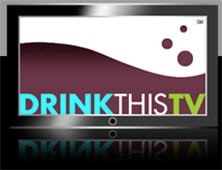 watching someone else swirl, sniff and sip something delicious does little more than engender thoughts of envy, reproach and frustration (not to mention thirst). (And though one could argue that Gary Vee's show follows this "taboo" tasting format, I will submit that his show's success can be credited far more to his dynamic personality than to his tastings.)
And so I was pleasantly surprised to discover
DrinkThisTV
, a seemingly straightforward tasting video show that exceeded my expectations. Hosted by Amy Christine and Eduardo Porto Carreiro – sommeliers at
AOC
and
Grace
respectively, two of LA's hottest dining spots – DrinkThisTV follows a simple format: It pairs informed tastings with amusing