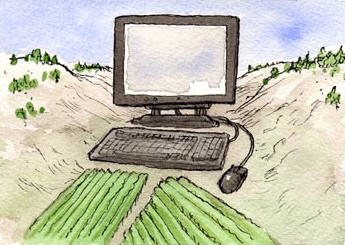 Santa Clara Valley Wines: An AVA not on many bottles
by Alan Goldfarb
July 28, 2009
---
What do Tiger Woods, the New York Yankees, and the Napa Valley, have in common?
They may not win all the time, but the attention seems to be trained nowhere else.
And in the world of wine, if you're not in the Napa Valley, you suffer from the same ailment – Napa Envy – and neither Viagra, nor good wines can seem to cure it. If you're not Napa, as some would have us believe, you've got an inferiority complex.
Which is all a way of telling you about a winemaker from far off the well-trodden path, who, like many of his colleagues, does not put much credence or trust in the origin of his own wines. I came across John Aver and his wines recently at the San Francisco custom-crush facility
Crushpad
, which he uses for his Aver Family brand wines. I like to taste wine without knowing much about it. When I sampled Aver's 2006 Heritage Cabernet Sauvignon, all that was revealed to me was that it read, "Central Coast" on the label.
I wasn't expecting much. After all, the designation "Central Coast", like "North Coast" or "California", has come to imply wines without distinction. In this case, my conjecture was way off base. I thought the aromas superb and perfumed, with alluring fruit that was seductive and sexy. Which led me to ask Aver a torrent of follow-up questions i.e. "How much is the wine?", and "Where on the Central Coast do the grapes come from, and where is your winery?"
"$44,
Santa Clara Valley,
Santa Clara Valley," came the answers.
So why didn't you put 'Santa Clara Valley' on the label instead of '[Central Coast'; and at that price-point, those that will be prone to buy the wine will know that
Santa Clara Valley
has a little more cachet. To which Avers responded, "When I first started, I went around to some of the bigger wineries (in the area) and all of them were putting 'Central Coast' (on their labels). If that's what they're doing and they're selling lots of wine, who am I to do something else?
"With my winemaker (Kian Tavakoli), when we first started making wine in 2006, we started discussing whether or not to put Central Coast or Santa Clara Valley on the labels. He wanted me to do Santa Clara Valley from the very beginning. We've been having those discussions now going on four vintages," Avers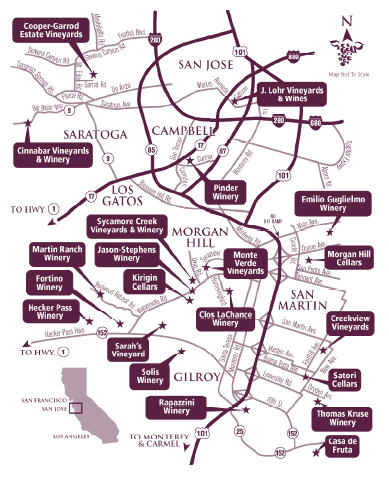 continued, "and he's been pushing me to do it. His whole thing is putting Santa Clara Valley on the map, but at my size (about 400 cases) it's not going to be me. I'm pretty sure I'm not going to be the one that does it, but I'll be part of it."

Being part of "it" for Avers, like a lot of American winemakers who find themselves outside of the cult of Napa Valley, will mean being part of a smaller and far less known region that will have to struggle for recognition. In Avers' case, it will mean being part of what was once one of the U.S.'s original winemaking regions; and which today is nothing more than an appendage to an area known throughout the world as "Silicon Valley".

The Santa Clara Valley, south of San Francisco and north of the Santa Cruz Mountains, used to be the home to such wine giants as Almaden, Paul Masson, and Mirassou. That was long before their vineyards were usurped by new companies such as Google, Apple, and Cisco, firms that bury their electronic cables under the same ground that once held vine roots.

Instead of vineyard land, there are now business parks, housing developments, freeways, and restaurants, which leave wine grapes to push out of the concrete like the rose that once grew in Harlem. Which leaves people like John Avers pondering what to place on their labels.

A newly minted trade group, calling itself

Wineries of Santa Clara Valley

(WSCV), is trying like heck to resuscitate a region whose glory days have been gone for a half-century. Although it officially was named an American Viticultural Area only 20 years ago, Santa Clara has simply become far more famous for silicon chips.

As far as

APPELLATION AMERICA

can ascertain, there are about 45 wineries and/or brands that are in the valley or use its grapes. Most are tiny producers. There are only about 1,400 acres of grapes, which represents only about 0.3 percent of the state's wine grape acreage.

The valley has a decidedly inland climate. The AVA encompasses the lower foothills in the eastern Santa Cruz Mountains. But coastal winds do affect southern parts of the area. These breezes enter the region through the Pajaro Pass in the south and Hecker Pass in the west. Most of the AVA's vineyards or wineries are located in the southern part of the valley near Hecker. Pacheco Pass and San Ysidro are sub-AVAs.

The valley borders San Benito County on the east. In general, the soils contain quite a bit of calcium and have a high pH - ideal for high quality grape growing. Today, the majority of wineries lie in the southernmost reaches of the AVA and also the western foothills of the Santa Cruz Mountains near San Jose. Santa Clara Valley doesn't have an agricultural preserve in place that would conserve land for vineyards – as exists in Napa and Livermore Valley. Because suitable land is constantly dwindling, whatever parcels do exist don't come cheaply. For instance, a 5-acre developed parcel, which was going for $800,000, recently sold for a half-million. Another 16 acre lot, bought by small producer Sycamore Creek, went for $2 million in 2005. At that price, it was "a steal," according to its owner.

Sycamore Creek's

, who recently became the president of the newly formed WSCV, is fighting a Sisyphus-like battle, trying to garner recognition for the AVA. "There was no direction out here," he says, speaking of the time before his group was formed two years ago. "We're trying to bring attention back, or what's left to it. We have a long history, but we also have a forgotten area."

Medeiros acknowledges that Silicon Valley types are interested in wine and some have even bought small plots, but he knows that these gentleman farmers will never plant more than a few acres. He realizes his group needs some kind of an agricultural preserve, but he claims the county isn't offering much help.

"They say they want to preserve their agriculture, but everything they do is counter to that," he insists. "They want to regulate so much, and I understand there needs to be some control, but they've spent so much time building up Silicon Valley."

But for the foreseeable future, Silicon Valley will continue to trump Santa Clara Valley. "Right now, we're trying to wake up the consumer that there are still wines being produced out here. People are producing some very nice wines, which may not have been the case in the recent past," notes Medeiros. Petite Sirah

and the Rhône varietals seem to suit the valley's soils and climate, as well as some Bordeaux-style wines, particularly

Merlot

and

Cabernet Sauvignon

, with

Pinot Noir

and

READER FEEDBACK: To post your comments on this story, click here
Print this article  |  Email this article  |  More about Santa Clara Valley  |  More from Alan Goldfarb