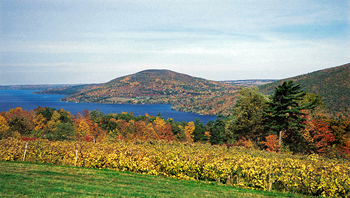 Wine and Travel a Perfect Match
Appellation America has pursued defining regional diversity since 2003. 2011 marks our expansion to embrace and encourage visitation of those same regions, to experience first hand the diversity of place each appellation projects. There is a natural relationship between wine and travel as they are both about experience of place.
by Mike Ribaudo
August 22, 2011
---
<!> Car horns blaring, sirens wailing in the distance, the perpetual motion of day to day life; these red flags develop a need to get away from it all and go on a trip. Noise and work, all aspects that induce stress can only be rivaled by a trip to destinations where the sounds and pace are of a natural sort and mother earth is the composer. You can fly commercially directly into the areas where wines are produced, but to really get the full experience you must road-trip off the beaten path, maneuver on the road less traveled to really become one with the 'wine' experience. It's an adventure into the unknown as you start to see the vineyards come into view and a weathered sign lets you know you've reached your destination. As the anticipation of tasting superb vino grows, you actually start another adventure -- a journey within a journey.