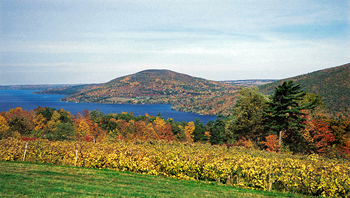 Wine and Travel a Perfect Match
Appellation America has pursued defining regional diversity since 2003. 2011 marks our expansion to embrace and encourage visitation of those same regions, to experience first hand the diversity of place each appellation projects. There is a natural relationship between wine and travel as they are both about experience of place.
by Mike Ribaudo
August 22, 2011
---
<!>
Car horns blaring, sirens wailing in the distance, the perpetual motion of day to day life; these red flags develop a need to get away from it all and go on a trip. Noise and work, all aspects that induce stress can only be rivaled by a trip to destinations where the sounds and pace are of a natural sort and mother earth is the composer. You can fly commercially directly into the areas where wines are produced, but to really get the full experience you must road-trip off the beaten path, maneuver on the road less traveled to really become one with the 'wine' experience. It's an adventure into the unknown as you start to see the vineyards come into view and a weathered sign lets you know you've reached your destination. As the anticipation of tasting superb vino grows, you actually start another adventure -- a journey within a journey.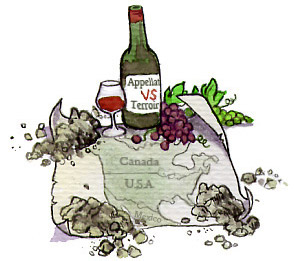 The countryside: there in an area where wildlife scuttles about and cool breezes flex the flora and initiate agreeable reverberations, rest amazing wineries. Usually, when you take time to travel the back roads, it's a jump into the new, and the possibility of opening up novel taste experiences. Isn't that what's great about trying new wines? New varieties from wineries you may have never heard of, new experiences that introduce fresh tastes like a sensory explosion. Your taste buds fluttering through the complex tastes of wines that you just can't get everywhere. Your local wine outlet is no match for going out into the wide world of differing appellations and boutique wineries that will shape such a quality experience that takes in all your senses. That unique flavor profile, a character specific to each location, exists in part due to absorbing the surrounding elements, since many aromatic and flavor components that aren't typical to a varietal elsewhere actually come from the flora and fauna immediately surrounding the vineyard. Aromas derived from chemical compounds produced by local plants like sage and pine attach themselves to the wax cuticle of the berry and find their way into the wine, becoming part its unique local character.
Each winery's offerings represent the area in which they exist. Each appellation encompasses particular contours of the land, and the taste of each wine assumes itself as an expressive key to unlock the flavors created by the landscapes your visage takes in. Wine and travel become the perfect match for each other. Like key to lock and mind to body, each new road trip experience enchants the mind while the complexities in taste of the wines you savor stimulates the body. Wineries can grow the same wine grape, yet influenced by their diverse surroundings, whether grown in the heavily forested Santa Cruz Mountains or the warm and dry Napa Valley, the wine that's created is entirely distinct and exclusive, reflecting impacts from soil and the vintage year's weather. A great Riesling improves with more direct sunlight like you'd find in the summer months of high latitude regions, presenting a superb dimension of originality not found in other regions.
Regional diversity describes a difference between appellations through changes in soils, weather, and the people making the wine. Along with these specific components, through changes in appellations, there are always going to be extraordinary eats, fabulous fine arts, and a peaceful pace of life.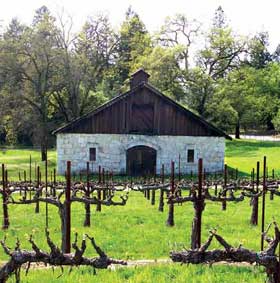 You relax and immerse yourself in the scenery, and what better to soothing your aches of worlds away than the innate qualities of wine, which Pasteur called "the most gentle and efficacious of medicines.". Your chances are good of finding a great wine that grabs hold and matches beautifully with the landscape. There are over 7,000 wineries in the United States and Canada, which means there are 7,000 chances to experience a great wine and with it, a remarkable view. Wineries represent the superb achievement of taking a fruit grown in the warm sun, set in a stunning scenic view, and aged to a perfection that allows the consumer to taste the views and view the taste. Wine and travel truly is a perfect match.