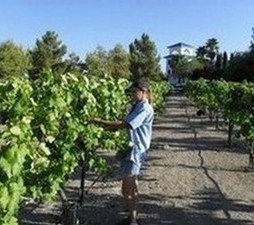 Pahrump Valley Winery defining Southern Nevada diversity
The Silver State has long been known for mining and gaming resorts. With all the vast land of the state, pioneers are setting about to bring Nevada grown and made wine into that mix. Pahrump Valley Winery has set the table stakes outside Las Vegas, showing good viticulture and winemaking can be found.
by Roger King
June 18, 2012
---
<!>
Nevada may seem a strange place to make wine based on the barren terrain, but the reality is that the state is gaining a reputation for fine wine, as well as a fine place for poker games . While few wineries actually dot the state; Pahrump Valley Winery outside of Las Vegas, in the south, Tahoe Ridge in Carson Valley and Churchill Vineyards in Fallon up north, Nevada grapes are in fact making Silver State wine.

Growing in the harsh climate and sometimes difficult, but certainly well drained, soils is not easy. Yet the state is being tamed by a group of growers and vintners who are determined. Vineyard blocks are small and red varietals are dominant, with even a cold hardy hybrid found in the mix.

One of the most unlikely wineries in the west, The Pahrump Valley Winery first opened its doors in 1990, meaning that the company has only been producing wine for just over two decades. Alone and isloated west of Las Vegas, possibly built more as a tourist restaurant than winery, initial efforts lost some luster. It had changed hands a few years back and major new life and energy has been installed by Bill and Gretchen Loken.

Symphony's is now the restaurant, but the winery is without a doubt a serious winery. The desire to explore wine production from a number of other Nevada vineyards is leading to a series of wines that will begin to tell the story of Nevada.

Although there are literally thousands of acres of barren desert throughout the state, trying to establish a winery in Nevada seemed a bigger gamble than the high stakes in Las Vegas. However, Bill and Gretchen Loken, owners and winemakers at Pahrump Valley Winery took the gamble and it was one that has paid off.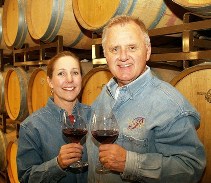 Through research, the couple discovered that different types of grapes did better in the different regions of the state. Zinfandel is one example where multiple vineyards in the Nevada regions of the Mojave Desert have been enlisted into the blend of their Nevada Ridge Zinfandel since 2008. The earlier Nevada Ridge Zinfandel, starting in 2005, had singularly come from the estate vineyard block.
Results of classic red berry fruit and fitting 'dusty' tannin found originally in the estate wine were being provided a bit more acidity from the other vineyards, which is positive to a region that tends to run high pH fruit. Gretchen Loken describes Nevada terrior as " lighter in color, lighter in body, lighter in flavor than the rich heavy wines typical to California". She sees that as a consistent stamp of Nevada terrior and has prompted them to partner long term with these vineyards.
The Pahrump Valley Winery estate block, Nelson Vineyard in the Amargosa Valley, Veronica's Vineyard in Crystal Heights has allowed exploration of the subtle differences of Zinfandel in this region of Nevada. 2005 Nevada Ridge Zinfandel, Nevada, was the first red wine commerically bottled from state appellation grapes and has continued through the current 2009 release.
The ability to expand the line of Nevada wines is possible from the Merlot, Cabernet Sauvignon, Primitivo, Tempranillo, Cinsaut, Barbera, Mourvedre growing in these same regions. This range of reds, growing in southern Nevada, is in contrast to the Chardonnay, Gewurztraminer and Riesling grown and made in northern Nevada at Churchill Vineyards. Should white production at Churchill Vineyards expand look for it making a path to the Lokens.
The more west central one travels the colder the winters become and even the hybrid Frontenac, more associated with upper Mid-West states, known for harsh cold winter, is being cultivated at Pellegrini Family Vineyard in Yerrington.
Their gamble with the Nevada climate has begun to pay off in spades to use a
poker
term. Not all wines are made from Nevada grapes, many whites come in from California to round out Pahrump Valley Winery offerings. The company has recently signed a deal to ship over 1,000 cases of their Chardonnay, Burgundy, Symphony, and Barbera to fine restaurants and hotels in Shanghai, China. Total wine production had been about 10,000 cases per year, yet the Nevada appellation wines remain under 1000 cases at this time.
Bill and Gretchen Loken can be considered true pioneers of wine making. They took a gamble on this Nevada site, soils and climate, wound up creating a set of wine brands enjoyed by wine consumers around the world. But do not forget their contracted vineyard owners are also pioneers. These growers have passion to push the 'what can be done'.
Dr. Roger & Nancy Gehring have built School Lane Vineyards into the largest single vineyard in southern Nevada with 5 acres planted in 2005 of Primitivo, Syrah, Tempranillo, Barbera, Mourvedre and Cinsaut. Time is proving these good choices for the southern Nevada desert climate and soil.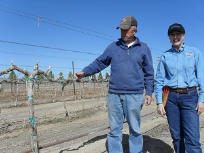 Pahrump Valley Winery sources all the fruit from the 5 acres and looks to another 5 acres planned for planting in 2012. The upcoming harvest in 2012 is expected to yield 25 tons of wine grapes. 2012 will also see the first release of wines from this vineyard, including a 2010 Cinsaut rose and 2010 Primotivo, becoming the point of origin for such varietals in Nevada. Dr. Gehring planted 1,000 olive trees at the vineyard expecting the trees to be ready for their first harvest and milling to oil in late 2012.
The Pellegrini Family Vineyard in Yerrington, is a three acre vineyard planted to the hybrid grape Frontenac. Developed at the University of Minnesota for colder climate, it shows the diversity of Nevada. Yerrington is a fertile central Nevada area which experiences cold winter months yet a warm summer season. Early indications proved it to be an excellent choice for this colder area of central Nevada, where winter temps can often dive deep into sub-freezing levels.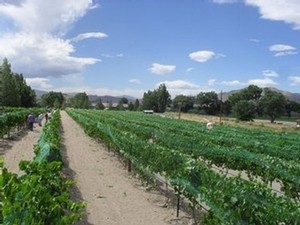 Frontenac produces very small and intense grapes high in acid, perfect for rosé or Port style wines. The Pellegrini block began production in 2008 with the very first harvest of Frontenac. A refreshing Rosé wine was produced and released in 2009. This was the first commercial hybrid grape wine released in Nevada and surprised many when it gained national attention. The fruit is now fully committed to a port style wine started in 2010, with first release later in 2012.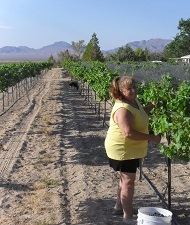 Bob & Roni Regan began developing a three acre vineyard 30 miles north of Pahrump in 2003. Varietals include Zinfandel, Syrah, Cabernet Sauvignon, Merlot and Ruby Cabernet. This block of Zinfandel is now a defined component the Nevada Ridge Zinfnadel.
Vines started to produce in small amounts in 2008 and the experience gained by the planting of these varietals proved invaluable to the production of Nevada's first Cabernet Sauvignon and Merlot from this vineyard. The progress of Zinfandel and Syrah varietals shows great prospects for future expansion.
While Nevada is well known for taking a risk on a bet, grape growers and wineries in the Silver State are sitting at their own table looking for a royal flush.

READER FEEDBACK: To post your comments on this story, click here
Print this article  |  Email this article  |  More about Nevada  |  More from Roger King