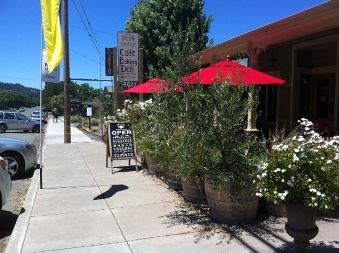 A Visit to the Anderson Valley
Appellation America has covered Anderson Valley for years with extensive Best of Appellation panel reviews and stories on the great regional diversity of the wines of this valley. In a change of look we chronicled simple exploration of the valley to experience the wine country charms offered.
by Barbara Trigg
July 13, 2012
---
<!>
Appellation America is headquartered in one of the most enticing wine regions of the world. Only an hour removed from San Francisco, our world renowned wines, stunning vistas, and world class restaurants attract visitors from around the world. The Napa Valley draws you in with its beauty and bids you stay.

But we are only one of many fine wine regions within a days drive of the city by the bay and this week I decided to visit one of my favorite appellations, the Anderson Valley, in Mendocino County which is home to ten American Viticulture Areas (AVAs). This cool region, about 10 miles, as the crow flies from, the Pacific Ocean, is the home of soulful pinot noirs, bracing whites, and vibrant sparkling wines. We drove Hwy 128 from Calistoga to Healdsburg through Knights Valley and Alexander Valley (nice wines here too!) and on to Cloverdale. This is about a two hour drive, as is the drive from the Golden Gate Bridge. From Cloverdale, Highway 128 weaves and curls 26 miles and about 45 minutes up the hill to Boonville, the sleepy headquarters of the region.

This "downtown" is about 3 blocks long and is anchored by the very charming 15 room Boonville Hotel. We had lunch and picked up picnic supplies from The Mosswood Market and The Boonville General Store , drank a local beer, and headed off to taste wine and explore this remote and quietly beautiful region.

Over 20 wineries are located in the 15 or so miles separating Boonville from the ocean. Elevations in the Anderson Valley range from sea level to 2500 feet. While cool marine air helps maintain average year round temperature of 53 degrees, be prepared that it can occasionally vary 40 to 50 degrees in a day. Summers near the ocean are cool with frequent fog while further inland temperatures can reach up to 100 degrees. This climate is ideal for pinot noir and the Alsace-type wines for which the region is also well known. Cool evenings and marine fog keep acid development in the grapes in line with sugar and flavor formation during long indian summer days up until harvest.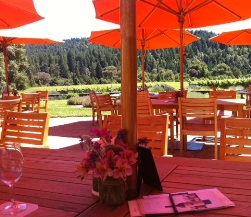 Our first winery stop was in Philo at Goldeneye Winery, part of the Duckhorn Wine company. Tasting takes place outside on the terrace overlooking the estate Confluence Vineyard. Shaded by bright umbrellas, soothed by a gentle fountain, and tended to by a charming and knowledgeable wine educator (Hi Doug!), it is a magical place to enjoy the wines. The tasting begins with the Anderson Valley Vin Gris of Pinot Noir, a rose which while elegant, crisp and dry, bursts with flavors and aromas of fresh strawberries, ripe watermelon, and tangy grapefruit. This is a lovely summertime wine to pair with anything from light salads to seafood.
This is followed by three Pinot Noirs. The Goldeneye , 100 percent pinot noir sourced from four estate vineyards, is full bodied yet silky and bright and loaded with raspberries on both the nose and the palate. It has an intriguing undercurrent of earthiness and spice which will be coaxed out with some aging. This is followed by two single vineyard examples. The Gowan Creek Vineyard is influenced by both warmth and coastal fog. The wine is dense yet silky with notes of dark berries, earth, and spice.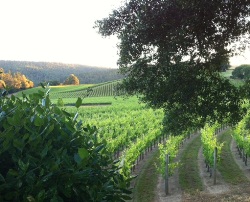 The Confluence Vineyard consists of both hillside and valley floor plantings and is in the warmest area. This wine is earthy with red fruits and spicy cola elements. All of these wines are expressive of place, smooth, powerful yet silky, and are balanced with nice acidity and tannin structure.( Disclosure, I work two days a week for Paraduxx Winery so we were fortunate to stay on the property and spent the evening exploring the vineyards and watching the shadows grazing the vines as the sun set. Beautiful location!)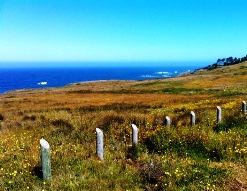 After a long walk in the morning we decided to head west over the mountain to see the rugged coastline. Fortified by fresh coffee in Philo, we followed the Navarro River on Hwy 128 through towering Coastal Redwood groves to the ocean. There are many pullovers that allow you to take pictures of the mighty trees through dappled sunlight. Energized by a walk along the bluffs and the salt air, we headed back to taste a few more wines before leaving this beautiful area.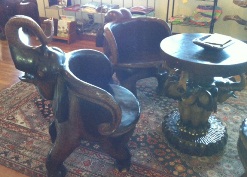 First stop was Handley Cellars in Philo. Surrounded by colorful gardens, the tasting room has a tasting bar and some of the most unique antique chairs I've ever seen. Carved out of teak, weighing at least a hundred pounds each, are four chairs in the shapes of elephants. The owner has a terrific collection of Asian art. If the art is an indication, artful wines are expected. These wines deliver. Their 2010 Anderson Valley Chardonnay, 2010 Gewurztraminer, and 2010 Meyer Vineyard Sauvignon Blanc, a sauvignon blanc/semillion blend, all garnered double gold in our recent Best-of-Appellation tasting of Anderson Valley wines.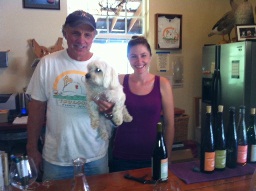 Next stop was one of those experiences all wine travelers cherish. We pulled into Toulouse Vineyards and parked in what appeared to be a construction zone. We were hardily welcomed by a smiling man followed by a dog who both graciously led us to the tasting bar. There we were greeted by name by a woman with another big smile. Turns out the man was Vern, the owner and winemaker, the dog Tess, and the woman, Rita, his assistant winemaker. Together they make it all happen: vineyards, tasting room, winemaking. The hospitality was award winning as were the wines. This small 5000 case winery garnered a double gold for their Gewurztraminer in our tasting but we couldn't help leaving with bottles of the crisp Rose of Pinot Noir and their beautifully crafted Estate Pinot Noir. The pinot is elegant and complex, full of cherry cola, earth, raspberries, and mineral. This wine should age gracefully with its balance of bright fruit, crisp acidity, and tannin.
The construction we witnessed is the new tasting room and offices. The tasting room will have an outdoor deck overlooking the Anderson Valley and we cannot wait to return to taste these elegant wines again. After a walk through the vineyards, a look at his work in progress, a 1950 GM truck restoration, and gasping at the size of the Manzanita trees, we bid goodbye to the Anderson Valley and headed home.