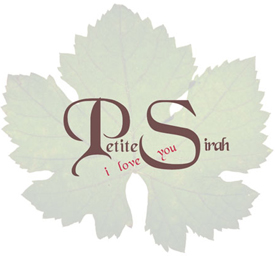 Petite Sirah Symposium, 10th Time Around
The 10th Annual Petite Sirah Symposium was held in Livermore Valley at Concannon Vineyard, historic home to the varietal. The passion for this grape and wine continue to grow.
by Roger King
August 1, 2012
---
<!>
Petite Sirah is alive and well, and the Petite Sirah I Love You (PSILY) organization is thriving. That is the conclusion one could easily come to after attending the 10th Annual Petite Sirah Symposium. Held July 31st in Livermore, between Martinelli Event Center, with morning sessions, and host Concannon Vineyard for lunch and a wide ranging Petite Sirah tasting of member wines.



Fascinating presentations from Jim and John Concannon opened with the history of this grape and its resulting wines, they should easily know being the first to ever bottle the varietal under varietal name. Of course we also know this grape as Durif, coming from breeding cross of Syrah and Peloursin, but that did not come across with the cuttings back in the day. Keynote speaker Evan Goldstein MS, spoke with passion to a capcity filled room and offered the realities of the varietal and the future. Winemaker and viticulture expert David Coffaro spoke to his exploration of Petite Sirah and that he actually has a small block of Peloursin.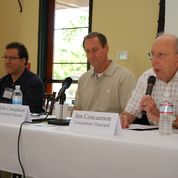 Mid-morning sessions from David Mounts, a third generation wine grape grower in Dry Creek offered the grower perspective quote of the day with "Petite Sirah a grape you love to hate". Only a grower would know the ultimate difficulties Petite Sirah offers in the vineyard, but it is also a statement of how passionate Petite Sirah growers are about stewarding its berries to wine. Nils Venge, Saddleback Cellars offered an interesting look into the ultimate potential of "Cult" Petite That Rock, offering examples of how that path is traveled.
What might have taken all by surprise was the closing presentation by Joyce Goldstein, chef and consultant to restaurants for food and wine. Joyce had received a number of Petite Sirah bottles from the membership of PSILY that showed a range of style and appellation.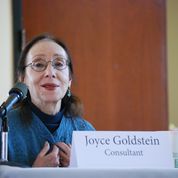 As a chef she thought about the flavors she was tasting in Petite Sirah and what same food flavors existed. From that a confident suggestion of pairing Petite Sirah with ethnic foods of different place, that exude those flavors, was a huge path forward. While styles of Italian foods work wonderfully with the flavors and acid of Petite Sirah, most restaurants might prefer to provide Italian wines of place.
Looking to new ethnic cuisine, many that include lamb, pepper, smoke, clove, olive oil, garlic, bay leaf and spice would be worthy expansion of Petite Sirah to the table. Turkish dishes of lamb and smoked eggplant, Spanish dishes, Mexican mole, Korean short ribs all came to her view.
The PSILY organization has again taken dynamic lead in driving more awareness of and commitment to Petite Sirah among producers, here, and consumers who attend their annual 'Dark and Delicious' pouring. How can the category not thrive and where else can this grape be planted to produce outstanding wine of structure and color when properly harnessed.
Stepping back to look over the broader landscape of regional diversity, the afternoon tasting took on a focus to what stood out between regions, after all this is the same grape. That is where the first thought again is Petite Sirah is alive and well. Wines from as far south as San Diego (north) County, north to Mendocino and the northern Sierra Foothills showed highly diverse aspects of Petite Sirah. During a vertical Best of Appellation back in 2009, coordinated by PSILY, various regional descriptions of Petite Sirah were committed to the Blue Book by Clark Smith. One of his continued observations about Petite from the host Livermore Valley is a lemon nuance that defines this region. It continues to be seen, even at this most recent tasting.
There is much to love in Petite Sirah and much to realize about all the inflections it can deliver of place. Add that with exploring pairings with new cuisine and one walks away seeing a very bright future. One simply has to venture to experience.