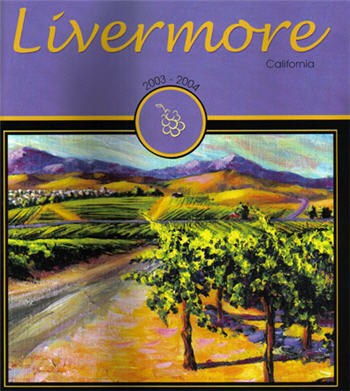 Discover the Ever Expanding Livermore Valley
Livermore Valley continues to attract serious wine production that is expanding the possible that can be achieved in this historical California appellation. Visiting to experience this evolution brings you to the cellar doors of brands not readily available.
by Michael Lasky
September 12, 2012
---
<!>
With more than 40 wineries and counting, the once sleepy Livermore Valley beckons tourists and wine lovers with awarding winning wines and dozens of restaurants offering wine-friendly, international cuisines. Although the summer temperatures can hover around 90 to 100 degrees, the shady streets of downtown Livermore and the cool wineries surrounding the city offer irresistible hospitality.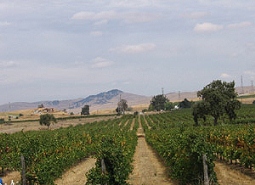 If Highway 29 is the main drag in Napa Valley, Tesla Road in Livermore Valley is its match. Cruise along what still is a country road south of the Livermore main square and you will find wineries dotting each side. What distinguishes Livermore wineries from those in Napa Valley are lower tasting fees and, even on some weekends, smaller crowds. There are still many more wineries jutting off from Tesla Road and the winery maps from the Livermore Valley Wine Growers Association and a tank of gas is all you need to visit.
With that in mind, we set out to check out what is the open secret – a wine country less than an hour from the San Francisco Bay area. The first thing we discovered is many wineries here are only open from Thursday or Friday to Sunday. So it is important to check the Livermore Valley Wine Growers website or the particular winery before heading out.
As we drove down Tesla Road from what was South Livermore Avenue, the first winery on the left is Concannon Vineyard. One of the oldest wineries in the valley, Concannon has long since made its name as the Petite Syrah champion, and in fact was the locale of a recent Petite Syrah symposium.
No longer the small, homey winery it used to be, Concannon was purchased by the wine conglomerate The Wine Group, probably best known for its Franzia boxed wines. The facility is now like a mega-factory producing wine for other Wine Group brands, as well as its own. Trucks roll in and out of the long driveway shared by visitors, but the occasional traffic just increased our anticipation. The vast tasting room has a wide bar to accommodate weekend wine warriors.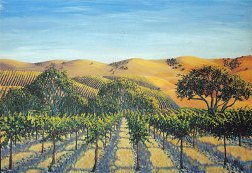 In addition to the expected Petite Syrah, the winery features other Rhone and Bordeaux style wines. While the tasting list of the day is limited, you can ask about tasting other unopened wines. Chances are good you will be accommodated.
Across the tasting room courtyard is the Darcie Kent tasting gallery. An artist and winemaker, Darcie displays her paintings of each vineyard of her wines. Prints of the vibrantly colored pictures are available for sale as, of course, her wines. The Sauvignon Blanc with its follow through of Jalapeño is not to be missed.
We passed numerous wineries as we continued along Tesla Road until we arrived at The Steven Kent Winery with its associated La Rochelle Winery. Kent focuses on Bordeaux varieties in extremely small lots. La Rochelle wines, served in the same atmospheric dark cellar, specializes in Pinot Noir and Pinot Blanc from cooler AVAs. They are hand produced in lots from just 55 cases to the biggie, a mere 226 cases. In other words, if you like what you taste, buy it then or forever hold your peace.
For $10 a flight from each winery you are served four wines at separate barrel tables. Each wine proved exquisite, no doubt the elegant service influencing us a bit.
Neighboring Steven Kent is Wente Vineyard Estates' tasting room, not to be confused with the actual estate and restaurant off the beaten path on Arroyo Road. Wente Vineyards is the oldest continuously operated, family owned winery in the U.S. Situated on the same property as the Tesla Road tasting room is Tamás Estates, not wholly owned by Wente.
Other than a bright, full-bodied, peppery Zinfandel, all wines at Tamás Estates are Italian varieties including a Sangiovese Rosato and a super Tuscan called Fiorente. For $10 you taste these and two other blends. But the full wine list is much longer. Inquire about tastes of the other wines and you will most likely be rewarded with an additional taste.
Instead of just walking across the property to the Wente tasting room, we decided to venture to the tasting room on the actual estate and swung around to Arroyo Road about five miles south. Wente Vineyards also featured a golf course and high-end restaurant. While reservations are necessary to eat out on the patio, the air-conditioned, well-appointed indoor dining room let us chill down from the noon heat.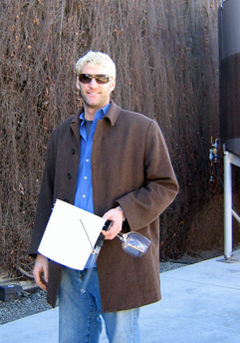 The menu features produce from the Restaurant's organic garden and changes daily. Wines from Wente as well as other California wineries are served by the glass and bottle. It was at the restaurant that we enjoyed the 2009 Reliz Creek Pinot Noir. From its Arroyo Seco vineyards in Monterey County, the wine offers aromas of cherry and berry with a cherry and vanilla flavor and a great fruity and spicy finish. Good thing we ordered in the restaurant because it was not available for tasting in the tasting room across the way.
After a hearty lunch, the tasting room seemed almost too much, but we ventured on with tastes of winemaker Karl Wente's wonderfully crafted Chardonnays and Cabernets.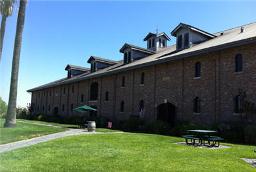 On our way back to San Francisco, we lucked upon the Mitchell Katz winery in Pleasanton. The impressive, stone winery was rebuilt from the relic remains of a fire at the old Ruby Hill Winery (the new Ruby Hill is next door.). For $10 there is a tasting menu of nine wines including a NV Brut Sparkling wine, and Livermore Valley Chardonnay, Merlot, Cab, and Sangiovese.
We felt like we barely scratched the surface in one day in Livermore Valley. That means we will just have to come back. It's worth the trip.