---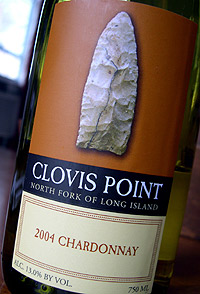 Clovis Point
2004 Chardonnay
(North Fork of Long Island)
I think it's ridiculous but Long Island wines are sometimes dismissed -- or at least panned -- because of their prices. Sure, you're not going to find many, if any, $8 Long Island wines that are worth drinking. Look to Australia, Spain and Italy if you want those simple, cheap wines. For classy, nuanced wines, most intelligent wine drinkers are willing to pay a bit more.

Of course, there are some wines in my local wine industry that are vastly overpriced. But, the market seems to handle those prices just find. Many wines sell out quickly.

The North Fork's newest player, Clovis Point, is one of the first producers to proclaim that they won't gouge customers, even though they probably could. Hal Ginsburg, co-managing partner of Clovis Point, told me that he and his partners will "strive for fair prices and not charge extreme prices simply because the "market might bear it" or because (Long Island) expenses are high (which they are). Most importantly, we're committed to making top flight wines (that) are distinctive and have character and balance."

The winery is waiting for town approval to open its tasting room in a renovated potato barn, but has already released three wines bearing the Clovis Point label -- including this excellent value Chardonnay.

This Chardonnay is a fresh, fruity wine that is already at the top of my list of wines for next summer. Fermented in stainless steel, a little barrel-fermented Chardonnay was added along with a little Gewürztraminer — an interesting addition that is really apparent despite only being 3% of the total. When I asked Leo why he added the gewurz, the answer was simple, "It made the wine more interesting. The heightened aromas and slightly more perky flavors convinced me that the chard benefited from it," he said. With bright fruit, super-subtle barrel notes and impressive nuance and balance, at this price point, this was my favorite of Clovis Point's three wines. The Gewürztraminer brings a liveliness and spice that will be quite refreshing once the weather warms again. For now, enjoy it with seafood and appetizers.
Reviewed December 6, 2006 by Lenn Thompson.
---
Winery: Clovis Point
Vintage: 2004
Wine: Chardonnay
Appellation: North Fork of Long Island
Grapes: Chardonnay (97%), Gewurztraminer (3%)
Price: 750ml $15.00



Lenn Thompson

Lenn Thompson writes about New York wines for Dan's Papers,
Long Island Press, Long Island Wine Gazette, Edible East End and Hamptons.com. Two words describe his taste in wine — balance and nuance. Lenn prefers food-friendly, elegant wines to jammy, over-extracted fruit bombs and heavy-handed oak. When reviewing, Lenn tastes each wine three times — alone right after opening, with food, and again the next day — believing that 90-second reviews are unrealistic and not how the average person enjoys wine.