---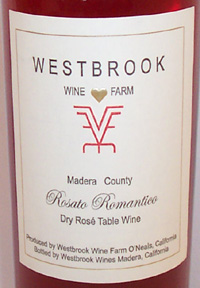 Westbrook Wine Farm
Rosato Romantico
(Madera)

Westbrook Wine Farm is one of nine wineries on the Madera Wine Trail. Their stellar line up of wines includes a Bordeaux blend, Cabernet Sauvignon, Petite Sirah, a marketer's nightmare – not that they have any problem selling it – Viognier/Valdiguie blend, as well as this rosato.

With a total production of 100 cases and 500 regular long-time customers, very little of this wine makes it out into general circulation. Add to this the pre-conceived notion that Madera is all about jug or sweet wine from the vast flatlands, and it would be very easy to see why few have heard of this family owned and operated wine farm.

Ray Krause and his wife Tammy, though, will hopefully take their well deserved position in California wine history for producing such cutting edge wines as this outstanding dry rosé.

Made with the free run juice of hand selected, sustainably farmed bunches of Cabernet Sauvignon and Valdiguie grapes, this delicious bright, vivid salmon pink wine is fairly viscous and has an immediately appealing nose of ripe strawberry, peach, cherry popsicle and earth. Medium in body, it is clean and lemony on the palate with rhubarb and cherry notes, crisp acids, and a soft, fleshy middle. The wine is dry and imbued with strawberries and rose petals on the long finish. This is an excellent, world class rosé.
Reviewed December 14, 2006 by Catherine Fallis.
Other reviewed wines from Westbrook Wine Farm
---
Winery: Westbrook Wine Farm
Vintage:
Wine: Rosato Romantico
Appellation: Madera
Grapes: Cabernet Sauvignon, Valdiguie / Napa Gamay
Price: 750ml $15.00



Catherine Fallis

Founder and President of Planet Grape LLC, a company committed to bringing the joy of wine, food, and good living into the lives of everyday people, Catherine is creator of the "grape goddess guides to good living," a series of books, television presentations, seminars, and e-learning programs. The fifth woman in the world to become a Master Sommelier, grape goddess Catherine Fallis is still very much down-to-earth.