---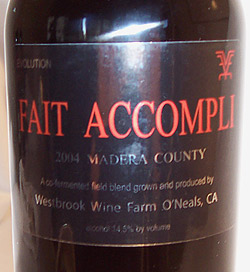 Westbrook Wine Farm
2004 Fait Accompli, Estate Grown
(Madera)

Fait accompli, or "accomplished fact," is an appropriately named, full-throttle, but very well balanced Bordeaux blend from winery owners Ray and Tammy Krause. The "shack" that serves as their winery and hospitality center (think Santa Barbara's Foxen Winery even post-Sideways), and surrounding vineyards, are located in the Sierra Foothills of eastern Madera County near the southern entrance of Yosemite National Park.

Westbrook Wine Farm's mountain vineyard is planted, interestingly, to a field blend of Cabernet Sauvignon, Cabernet Franc, Malbec, Merlot, Petit Verdot and Carmenere. I found many such plantings when I worked the harvest in Bordeaux. I'd ask someone what the grape was, and they'd reply, "a Bordeaux grape!" The couple picks and co-ferments the blend of approximately 55% Cabernet Sauvignon, 20% Cabernet Franc, 10% Malbec, 8% Merlot, 7% Petite Verdot, and a small amount of Carmenere all grown on the estate at an elevation of 1800 feet.

Star bright and opaque purple in appearance, this wine has notes of mulberry, spearmint, earth, cigar box, and nutmeg. Thick and rich with layers of jammy fruit, sweet vanillan, high alcohol and a counterpoint of juicy acidity, it is very well balanced and has a tart, drying finish. Folks who think the Madera AVA is all about jug or sweet wine from the flats should think again.
Reviewed December 14, 2006 by Catherine Fallis.
Other reviewed wines from Westbrook Wine Farm
---
Winery: Westbrook Wine Farm
Vineyard: Estate Grown
Vintage: 2004
Wine: Fait Accompli
Appellation: Madera
Grapes: Cabernet Sauvignon (55%), Cabernet Franc (20%), Malbec (10%), Merlot (8%), Petit Verdot (7%), Carmenere (1%)
Price: 750ml $55.00



Catherine Fallis

Founder and President of Planet Grape LLC, a company committed to bringing the joy of wine, food, and good living into the lives of everyday people, Catherine is creator of the "grape goddess guides to good living," a series of books, television presentations, seminars, and e-learning programs. The fifth woman in the world to become a Master Sommelier, grape goddess Catherine Fallis is still very much down-to-earth.