---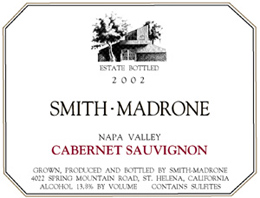 Smith-Madrone Vineyards & Winery
2002 Cabernet Sauvignon
(Spring Mountain District ~ Napa Valley)
The Smith brothers – Stuart and Charles – have been on top of Spring Mountain since the early 1970s. They've always made wines in the traditional style. That is, the alcohol levels of their Cabernets – which are always priced well below their market value – always come in under the magic 14-percent mark. Not because of tax purposes (anything over 14 means the winery pays a higher tariff), but because at anything higher than that, the Smith boys believe the wine to be unbalanced.

Well, thank goodness this 2002 Cabernet is under 14, because it might be the last. It comes in at 13.88 percent alcohol. But even the Smiths admit they are acceding to the market, and are allowing their wines to begin creeping over the "Mendoza" line.

As for this wine, I tasted it twice – once last February and again in early December. Both times there were lovely mint or eucalyptus aromas. The first time there was wild cherries, now there are red plums. While once the wine was brawny, now it's soft and smooth and even elegant with the same layers of earth and minerality I found 10 months earlier. There's still that great balance, but make no mistake, there are still plenty of big tannins. So hold it for a couple of years and drink it over the next 12-15 years.

The vineyard, at 1,400-1,900 feet, is dry-farmed. The wine was neither fined nor filtered. The Smiths opted to use 100 percent new American oak here, for 22 months, which at first manifested in the muscularity of the wine. But almost a year longer in bottle has proven that even domestic wood – like the Smith's themselves – have a certain softness.
Reviewed December 18, 2006 by Alan Goldfarb.
Other reviewed wines from Smith-Madrone Vineyards & Winery
---
Winery: Smith-Madrone Vineyards & Winery
Vintage: 2002
Wine: Cabernet Sauvignon
Appellation: Spring Mountain District ~ Napa Valley
Grapes: Cabernet Sauvignon (84%), Merlot (10%), Cabernet Franc (6%)
Price: 750ml $40.00



Alan Goldfarb

Alan Goldfarb has been writing about and reviewing wine for 17 years. His reviews have been published in the St. Helena Star, San Jose Mercury, San Francisco Examiner, Decanter, and Wine Enthusiast, among others. Not once has he used a point system, star system, or an iconic symbol to quantify a wine. What counts in Mr. Goldfarb's criteria when judging a wine is: how it tastes in the glass; is it well-constructed; its food compatibility; and presence of redeeming regional attributes.