---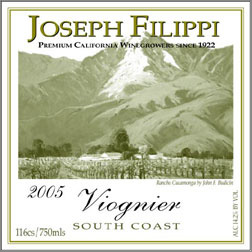 Joseph Filippi Winery & Vineyards
2005 Viognier
(South Coast)
From one of California's many overlooked regions (both the North and Central Coast have much higher visibility in the market place), the South Coast appellation centers around Temecula and Cucamonga, AVA's to watch. Most of what we see on the shelves with a "Coastal" reference on the label are innocuous corporate releases that are about as interesting as processed American cheese. This area, and this winery in particular, provides Chardonnay-fatigued palates a cornucopia of options, including this wild, zany Viognier.

Viognier produces a small crop and provides many challenges along the way. Prone to powdery mildew in damp conditions or humid climates, it produces notoriously low and unpredictable yields, and needs to be picked when fully ripe. The grape develops high sugar quickly, which translates to wines with high alcohol, but if they are not physiologically ripe the wine will not show its characteristic floral, apricot and acacia aromas and honeyed characteristics.

This version from Joseph Filippi Winery has the classic silky mid-palate and soft acids, but goes way beyond the traditional flavor spectrum to include notes of pear, tarragon, pumpkin ravioli in sage butter, hay, lime zest, kiwi, star fruit, and watermelon.
Reviewed January 8, 2007 by Catherine Fallis.
Other reviewed wines from Joseph Filippi Winery & Vineyards

Joseph Filippi Winery & Vineyards


2004 Merlot Artist Series Reserve
(Paso Robles)
Catherine Fallis 8/1/2007

Joseph Filippi Winery & Vineyards


NV Alicante Bouschet Port
(Cucamonga Valley)
Catherine Fallis 7/24/2007

Joseph Filippi Winery & Vineyards
2003 Zinfandel Artist Series Reserve
(Cucamonga Valley)
Catherine Fallis 10/20/2006
---
Winery: Joseph Filippi Winery & Vineyards
Vintage: 2005
Wine: Viognier
Appellation: South Coast
Grape: Viognier
Price: 750ml $22.00



Catherine Fallis

Founder and President of Planet Grape LLC, a company committed to bringing the joy of wine, food, and good living into the lives of everyday people, Catherine is creator of the "grape goddess guides to good living," a series of books, television presentations, seminars, and e-learning programs. The fifth woman in the world to become a Master Sommelier, grape goddess Catherine Fallis is still very much down-to-earth.