---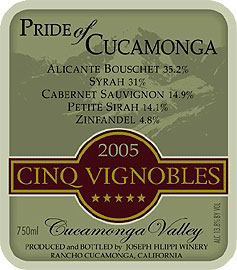 Joseph Filippi Winery & Vineyards
2005 Pride of Cucamonga Cinq Vignobles
(Cucamonga Valley)

Brothers Joseph "J.P." and Gino Filippi, who recently celebrated their family's 83rd anniversary in the wine business, are industry icons in the Southern California AVA of Cucamonga Valley. In fact, Gino Filippi wrote the petition that resulted in Cucamonga Valley becoming an American Viticultural Area (AVA) in 1995.

Marc Lurton of Chateau Reynier in Bordeaux, Tish Cooper and Dr. Fred S. Nury make up the winemaking team. The winery has multiple releases from the Cucamonga AVA and also from the larger South Coast appellation. This wine is a blend of 35.2% Alicante Bouschet, 31% Syrah, 14.9% Cabernet Sauvignon, 14.1% Petite Sirah, and 4.8% Zinfandel.

Bright, well-saturated crimson with blue tones, this gorgeous wine has inviting and intense notes of bramble-berry, blueberry, strawberry, cassis, peach, fig jam, forest floor, redwood tree, leaf, tar, cedar, and cigar box. Fully fruited, opulent, viscous, and fairly alcoholic, the wine has a sexy openness. On the finish the wine shows warm origin raisin notes and has a refreshing, lightly cleansing acidity. Though a bit more structure might make a more complete wine, the perfume is so intriguing it is easy to overlook that minor point. This is a decadent wine to enjoy now.
Reviewed January 8, 2007 by Catherine Fallis.
Other reviewed wines from Joseph Filippi Winery & Vineyards

Joseph Filippi Winery & Vineyards


2004 Merlot Artist Series Reserve
(Paso Robles)
Catherine Fallis 8/1/2007

Joseph Filippi Winery & Vineyards


NV Alicante Bouschet Port
(Cucamonga Valley)
Catherine Fallis 7/24/2007

Joseph Filippi Winery & Vineyards


2005 Viognier
(South Coast)
Catherine Fallis 1/8/2007

Joseph Filippi Winery & Vineyards
2003 Zinfandel Artist Series Reserve
(Cucamonga Valley)
Catherine Fallis 10/20/2006
---
Winery: Joseph Filippi Winery & Vineyards
Vintage: 2005
Wine: Pride of Cucamonga Cinq Vignobles
Appellation: Cucamonga Valley
Grapes: Alicante Bouschet (35%), Syrah / Shiraz (31%), Cabernet Sauvignon (15%), Petite Sirah (14%), Zinfandel (5%)
Price: 750ml $17.95



Catherine Fallis

Founder and President of Planet Grape LLC, a company committed to bringing the joy of wine, food, and good living into the lives of everyday people, Catherine is creator of the "grape goddess guides to good living," a series of books, television presentations, seminars, and e-learning programs. The fifth woman in the world to become a Master Sommelier, grape goddess Catherine Fallis is still very much down-to-earth.