---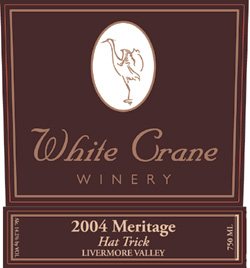 White Crane Winery
2004 Meritage "Hat Trick"
(Livermore Valley)
Winemaker Nick Nardollilo has a knack for making some very fine wines that really showcase the amazing Bordeaux varietals that perform so well in the warm Livermore climate. This is an admirable hat trick, indeed. Although the wine label says "Meritage," this wine is a blend of Cabernet, Merlot and Syrah. All the fruit came from the White Crane Vineyard area off Crane Ridge Road.

Right from the start, you know it's at least partially a "Meritage," with dead giveaway aromas of earthy, bricky Cabernet, and brambly hints of Merlot. The Syrah arrives immediately on the palate, with great flavors of black forest baked ham and Australian licorice, and the Merlot shows up with dark cherries, manuka raisins and unmistakable hints of dates. The Cabernet packs rich and ripe fruit flavors plus peppers, peppers and more peppers. There is a not-insignificant amount of tannin, and the acidity is just enough to keep the wine in balance. This is a really delicious wine with a polish that comes from unmistakably fine oak aging. The finish is sweet vanilla and mocha, and the texture is nothing short of plush velvet. It reminded me of my favorite velvet chair, the one with the plump camel back and big scroll arm rests. Like the chair, this is a wine you can sink into and just enjoy. The perfect pairing is a fat, juicy porterhouse steak topped with caramelized onions and sweet peppers and finished off with coarse red artisan sea salt from Hawaii.

This wine has already captured gold at the 2006 Indy International Wine competition, and deservedly so.

(Alc: 14.5%, Retail: $41.57)
Reviewed February 8, 2007 by Laura Ness.
Other reviewed wines from White Crane Winery
---
Winery: White Crane Winery
Vintage: 2004
Wine: Meritage "Hat Trick"
Appellation: Livermore Valley
Grapes: Cabernet Sauvignon, Merlot, Syrah / Shiraz
Price: 750ml $41.57



Laura Ness

A wine writer and wine judge for major publications and competitions around the country, Laura Ness likens wine to the experience of music. She is always looking for that ubiquitous marriage of rhythm, melody, and flawless execution. What is good music? You know it when you get lost in it. What is good wine? It is music in your mouth.