---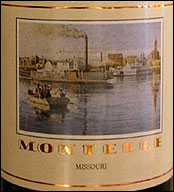 Montelle Winery
2004 Rose Gold
(Missouri)
Discussing the fine Rosé Gold at Montelle Winery in Augusta, Missouri, is tricky. It is a blend of four grapes, including Dechaunac, which is hard to pronounce, and Seyval, which is also known as Seyve Villard 5-276. Analysis with our in-born senses, however, exposes a welcoming wine of consideration. The wine is pink/orange (not gold). As with the color, studying the smell reveals a tight mixture of tree fruit and berries. Some tartness teases the edges of the tongue at first, but the low tannin Dechaunac finishes off smoothly. It is a light wine but, by no means, thin or washed out. It is full of fruit, and over-sweetness is reigned in. The Seyval leads with soft lemon and clove tones. Dechaunac follows "trippingly on the tongue." Prince Hamlet, from Shakespeare's play, said that in a tense moment.
For this blushing wine, however, we should look not to Hamlet but to the highly romantic balcony scene from Romeo and Juliet. Shakespeare wrote,
"What's in a name? That which we call a rose/ By any other word would smell as sweet."
Indeed. Call it gold or orange or Seyve Villard 5-276, Montelle's Rosé Gold is a fun, yet deserving, wine. I'm sure Shakespeare meant his words to read "That which we call a rosé…
$8.49 / 750 ml
Reviewed November 14, 2005 by Tim Pingelton.
---
Winery: Montelle Winery
Vintage: 2004
Wine: Rose Gold
Appellation: Missouri
Grapes: De Chaunac, Seyval Blanc



Tim Pingelton

As a professional winemaker and writer, Tim Pingelton understands how growing conditions and vinification techniques affect the grapes as they become wine. As an Appellation America correspondent, he realizes that a balance must be struck between standards in flux and standards fixed in time. Tim continually explores the areas about which he writes to personally relate how their wines do or do not embody appellation-specific characteristics.