---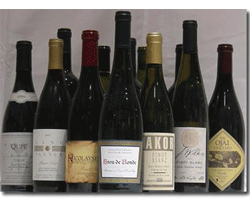 Bien Nacido Vineyards
2002-05 Bien Nacido Vineyards Collector's Case, Bien Nacido Vineyard
(Santa Maria Valley)
Dennis Schaefer's tasting notes for the Bien Nacido Collector's Case.

AU BON CLIMAT
2002 Nuits-Blanches au Bouge Chardonnay (Who Says?), Bien Nacido Vineyard (Block K)
Why drink a nearly five year old California Chardonnay? Because it is a delicious example of Burgundian style in California. The nose is creamy and nutty at the same time, showing secondary and tertiary aromas that come with age. In the mouth, there is plenty of buttercream and sweet, sweet ripe fruit that is very vibrant and not at all oxidized. Plenty of citrus and tropical fruit flavors, along with anise and lavender, combine with a well integrated lees/barrel component to take this Chard to another level. Bracing acidity pairs up well with the framework and body of the wine. Stylistically, this is the type of Chard that I favor: rich, delicious and nearly profound.

TANTARA WINERY
2004 Chardonnay, Bien Nacido Vineyard (Block W)
Rich and opulent on the palate, the wine is very fruit forward, billowing with pineapple, mango and caramel flavors. The added attraction here is a kind of buttered popcorn sheen that informs the flavors, giving them a further exotic lift into the next flavor dimension.

SUMMERLAND WINERY
2004 Chardonnay, Bien Nacido Vineyard (Block U)
Shows soft and pleasant aromas of honeysuckle, apple and pear, along with a dusting of talcum powder/baby powder (and I mean that in a good, soothing way). Baked apple and pear flavors are built on a moderately structured frame and are in sync with its weight in the mouth. It's not a big, boisterous Chardonnay but it was not meant to be, all the better to pair with a wider variety of food. The ripe fruit does a slow fade on the back palate, leaving a very harmonious impression.

J. WILKES
2004 Pinot Blanc, Bien Nacido Vineyards
The nose comes on strong with minerals and stone fruits. In the mouth, the fruit is very bright with a fine minerality and scintillating acidity. Though the ripe flavors of honeysuckle, lemon cream and apple blossom are apparent, the wine was fermented to dryness (and with no oak, nor malolactic). It retains its freshness, fruitiness and clean cut of minerality all the way though to the persistent finish.

MAKOR
2005 Pinot Blanc, Bien Nacido Vineyard
Winemaker Jim Adelman treats this wine about the same way a high end Au Bon Climat/Qupé Chardonnay might be produced: totally barrel fermented (1/3 in new French oak) with full malolactic. The 2005 version is bright with citrus but becomes more serious on mid palate as the barrel fermentation, and subsequent six months in oak, frame and deepen the flavor profile, finishing with a fine squirt of lemony acidity.

LANE TANNER WINERY
2004 Pinot Noir, Bien Nacido Vineyards
Ripe aromatics of cherry and plum seem seductive, while the flavors speak to the strawberry and cherry end of the fruit spectrum. Harvested at the end of August (Lane tends to be the first to pick the Bien Nacido vineyard), the wine has an incredible lightness of being. Restrained and mellow, it's already approachable with its soft and velvety mouth feel.

QUPÉ WINE CELLARS
2003 Syrah, Bien Nacido, Z Block - Hillside Estate
In the mouth, this Syrah shows terrific intensity and purity of flavors that include, but are not limited to, blackberry, black raspberry, dark plum, vanilla, black pepper, mineral and graphite. All the elements, including the alcohol, seem to rest in perfect balance. This is the total package for those who are fans of cool climate Syrah, dripping with varietal authenticity.

JAFFURS WINE CELLARS
2003 Syrah, Bien Nacido Vineyard - Z(b) Block
Aged sixteen months in 40 percent new French oak, the smoky toast from the barrel jumps out at you as dark wood spice. High toned and dense in the mouth, the wine has big impact flavors, with cherry, cassis and licorice going for it, in addition to the spice mix. A big Syrah with plenty of nuances, but equally as balanced; it is drinking well now, but could age easily for another five years.
Reviewed April 3, 2007 by Dennis Schaefer.
---
Winery: Bien Nacido Vineyards
Vineyard: Bien Nacido Vineyard
Vintage: 2002-05
Wine: Bien Nacido Vineyards Collector's Case
Appellation: Santa Maria Valley
Grapes: Pinot Noir, Syrah / Shiraz, Chardonnay, Pinot Blanc
Price: , Case$395.00



Dennis Schaefer

Dennis Schaefer has been tasting and writing about wine for over 30 years, propelled by a continuing curiosity and burgeoning enthusiasm for discovering what's in the bottle. Blessed with catholic tastes, he enjoys everything from the obvious to the sublime. A major requirement is that the vineyard, winery and winemaker consistently perform well and fulfill their potential. Balance, concentration and complexity are key to the tasting experience but, in the end, the purpose of wine is simply to give pleasure.