---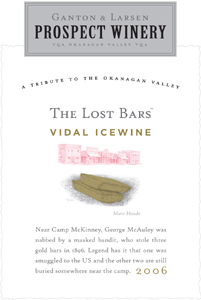 Ganton and Larsen Prospect Winery
2006 The Lost Bars Vidal Icewine
(Okanagan Valley)
The new Prospect Winery, a Mission Hill spin-off, is releasing this icewine in the half-bottle format for general retail distribution and in a 200 ml format for restaurants. One would have expected the reverse – the more affordable size for consumers. Restaurants can surely get through the larger format more easily selling dessert wine by the glass.

The bottle size aside, it is the same wine and a good example of icewine from one of the Okanagan's best icewine vintages. Freezing temperatures arrived in the first week of November when grapes were plump and healthy. The good solid freeze, which lasted for several days, enabled winemakers to extract vibrant flavours and lots of sugar. This wine has 220 grams of sugar per litre after having fermented to nine per cent alcohol.

It begins with aromas of honey and apricots, leading to flavours of peaches and apricots. Beautifully balanced with racy acidity, the wine has a clean, zesty finish, admirably lacking the cloying sweetness of lesser quality icewines.
Reviewed September 20, 2007 by John Schreiner.
Other reviewed wines from Ganton and Larsen Prospect Winery
---
Winery: Ganton and Larsen Prospect Winery
Vintage: 2006
Wine: The Lost Bars Vidal Icewine
Appellation: Okanagan Valley
Grape: Vidal Blanc
Price: 375ml $39.99



John Schreiner

John Schreiner has been covering the wines of British Columbia for the past 30 years and has written 10 books on the wines of Canada and BC. He has judged at major competitions and is currently a panel member for the Lieutenant Governor's Awards of Excellence in Wine. Both as a judge and as a wine critic, he approaches each wine not to find fault, but to find excellence. That he now finds the latter more often than the former testifies to the dramatic improvement shown by BC winemaking in the past decade.