---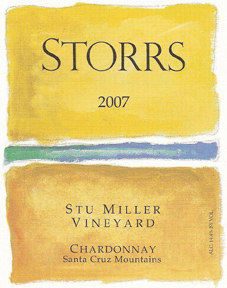 Storrs Winery
2007 Chardonnay, Stu Miller Vineyard
(Santa Cruz Mountains)
Don't get me wrong: I loved nearly every one of the medalists in APPELLATION AMERICA Santa Cruz Mountains Best-of-Appellation™ Chardonnay round, some more than others. But this one was among my top picks: I gave it a 10 straight out. The lovely nose of Lowlands Scotch, with faint citrus aromas, opened the door to delicious floods of baked apple, cinnamon, sassafras, lemongrass and walnuts. It tasted like the perfect apple turnover. This is a very focused, charming, and friendly wine. That's why when asked to describe this wine as a person, I thought of actress Hillary Swank: honest, genuine, warm and someone you just want to get to know better, preferably over a glass of this wine.

The cool thing about this analogy is that the owner of this vineyard, the late Stu Miller, apparently shared those same affable and endearing personality traits with Ms. Swank. Stuart attended San Jose State and then later the Pratt Institute in Brooklyn, where he graduated in 1951 with a degree in chemistry/tanning technology, which served him well during his long career at Salz Leathers in Santa Cruz. After he retired, he traveled worldwide consulting to the leather industry saying, "It's interesting work, but it's a long commute." After all his travels, his favorite place was at home with his family and his beloved Chardonnay vineyard. For his final harvest in 2007, he accomplished a dream: the grapes were fermented separately and bottled with his name on the label by Steve Storrs.

Local Viticulture expert Prudy Foxx helped Stu rehab his vineyard when it was suffering from disease issues. As she typically does with small vineyards in the mountains, Prudy made changes in the spray regime and advised more aggressive canopy management. Of the experience, she says, "You can't teach an old dog too many new tricks, but he was such a decent human being and he loved his vineyard."

With a southern exposure on the Santa Cruz side of the mountain range, this vineyard, located over 1k feet on shallow clay soil, is planted to the Wente clone, which yields wines of great approachability and softness, yet solid structure. This wine is going to age as gracefully as Stu. If you can find a bottle, round it up right now.
Reviewed November 17, 2008 by Laura Ness.
Other reviewed wines from Storrs Winery
---
Winery: Storrs Winery
Vineyard: Stu Miller Vineyard
Vintage: 2007
Wine: Chardonnay
Appellation: Santa Cruz Mountains
Grape: Chardonnay
Price: 750ml $32.00



Laura Ness

A wine writer and wine judge for major publications and competitions around the country, Laura Ness likens wine to the experience of music. She is always looking for that ubiquitous marriage of rhythm, melody, and flawless execution. What is good music? You know it when you get lost in it. What is good wine? It is music in your mouth.