---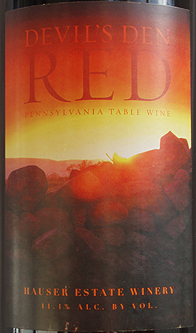 Hauser Estate Winery
2007 Devil's Den Red
(Pennsylvania)
As Hauser Estate Winery scrambled to complete its tasting room and winery in 2008, it needed straightforward wines to sell for its first year. The winery purchased partially finished wine from the region and created two blends, one of which was Devil's Den Red. The winery is a few miles from the historic Civil War battlefield of Gettysburg. The wine is named for a Confederate sharpshooter's nest.

Cornell-trained winemaker Michelle Oakes had to use partially-finished wines that were available to come up with Hauser's inaugural blends. With an eye toward making wines for tourists, she wanted fruit character, moderate alcohol, and youthful drinkability. For Devil's Den, she used 41 percent Chambourcin, a French hybrid and emergent favored red in Pennsylvania, 34 percent Cabernet Franc and 25 percent Merlot.

The result is a delightfully rustic wine with a nose of overripe cherries and berries and sweet pipe tobacco. The wine is generous in the mouth as well, with flavors of sweet dark cherries, rich mulch and earth, and some minerality and slight tang on the finish. The .8 percent residual sugar and less than 12 percent alcohol invite a second glass.

Hauser will live up to its "estate" name soon. The hillsides and benches of what had been the Hauser family's apple orchard are planted in lower elevations with hybrids such as Vidal and Chambourcin, higher sites are planted with Chardonnay, Pinot Grigio, Cabernet Franc, Petite Verdot and Sauvignon Blanc. Oakes has many Bordeaux varieties in barrel now for future, more serious blends, even as she works on apple wines and hard ciders true to the family and region's heritage.

The now deceased Hauser patriarch was a young president of apple processor Musselman's who planted an orchard to participate in the business from the ground up. In recent years, his four children were repeatedly told that their site would be ideal for grape cultivation. As things soured in the apple market, they developed vineyards and a state-of-the-art winery.
Reviewed November 24, 2008 by David Falchek.
---
Winery: Hauser Estate Winery
Vintage: 2007
Wine: Devil's Den Red
Appellation: Pennsylvania
Grapes: Chambourcin (41%), Cabernet Franc (34%), Merlot (25%)
Price: 750ml $13.00



David Falchek

David Falchek writes a weekly wine column for several newspapers in Pennsylvania, including the Scranton Times-Tribune. He also contributes regularly to trade publications such as Vineyard & Winery Management and Beverage Media. David has judged regional, national, and international wine competitions where he likes to think he lauds outstanding Seyval or Foch just as readily as Cabernet or Riesling.