---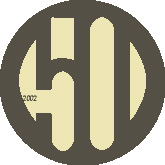 Martha Clara Vineyards
2002 Five-O Red Blend
(North Fork of Long Island)
As I often find with Martha Clara Vineyards' wines, no matter how much I enjoy the best whites, it's the red wines that jump out and demand attention and praise. It's no different with Martha Clara Vineyards' 2002 "50" Five-O red table wine ($25).
This blend of fifty-percent merlot, twenty five-percent cabernet sauvignon, fifteen-percent cabernet franc and ten-percent syrah is the "son" of Martha Clara's "6025" Meritage and it is chewy, juicy and ripe.
A deep violet, slightly inky crimson in the glass, its nose suggests ripe raspberries, amaretto and understated vanilla. With good structure, medium body and, lush mouth feel and juicy raspberry jam flavors spiced with oak, the Syrah component, while small, is evident.
Why is it called Five-O? I assumed it was because the blend is 50-percent merlot, but Ben Coutts, marketing manager for Martha Clara, told me "(Martha Clara Vineyard's owner) Mr. Entenmann has gained the nickname Five-O around the vineyard" because (he) believes that anyone over fifty (he's 78) knows it all."
No matter the explanation behind Five-0, I respect and appreciate Martha Clara's dedication to red blends. They do a great job with them. But with the big "50" on the label, it is the ideal wine to serve at any fiftieth celebration.
Reviewed October 17, 2005 by Lenn Thompson.
---
Winery: Martha Clara Vineyards
Vintage: 2002
Wine: Five-O Red Blend
Appellation: North Fork of Long Island
Grapes: Merlot (50%), Cabernet Sauvignon (25%), Cabernet Franc (15%), Syrah / Shiraz (10%)



Lenn Thompson

Lenn Thompson writes about New York wines for Dan's Papers,
Long Island Press, Long Island Wine Gazette, Edible East End and Hamptons.com. Two words describe his taste in wine — balance and nuance. Lenn prefers food-friendly, elegant wines to jammy, over-extracted fruit bombs and heavy-handed oak. When reviewing, Lenn tastes each wine three times — alone right after opening, with food, and again the next day — believing that 90-second reviews are unrealistic and not how the average person enjoys wine.