---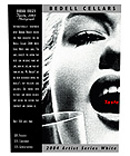 Bedell Cellars
2004 "TASTE" White - Artist Series
(North Fork of Long Island)
This weekend, Bedell Cellars will release the second wine in their Artist Series, a blend of 50% Viognier, 35% Chardonnay and 15% Gewürztraminer, dubbed simply "Taste". The label was designed by reknowned artist Barbara Kruger, whose artwork has appeared in galleries and museums as well as on billboards, buscards and posters.

Eyes: Pale, lemony yellow with slight fizz visible around the edges

Nose: Citrusy aromas of grapefruit and lime are joined by light melon notes and a little sweet spice.

Tongue: This wine is medium-bodied and tart with lime, honeydew, cantelope and even a little fig flavor. It's very bright and crisp and yet the finish is a bit coating and lingering. Tasted from a hand-labeled 375ml pre-release sample, the varietal character of each grape was noticeable, with the blending also creating something above and beyond. I expect that with a little more bottle age, some richer fruit flavors will develop and poke through, adding layers of complexity and depth. Definitely worth buying in a few months, or buying and cellaring short term.

Price:$25 (150 cases produced, half pre-sold to the wine club, restaurants and wine shops)
Reviewed June 18, 2005 by Lenn Thompson.
---
Winery: Bedell Cellars
Vintage: 2004
Wine: "TASTE" White - Artist Series
Appellation: North Fork of Long Island
Grapes: Viognier (50%), Chardonnay (35%), Gewurztraminer (15%)



Lenn Thompson

Lenn Thompson writes about New York wines for Dan's Papers,
Long Island Press, Long Island Wine Gazette, Edible East End and Hamptons.com. Two words describe his taste in wine — balance and nuance. Lenn prefers food-friendly, elegant wines to jammy, over-extracted fruit bombs and heavy-handed oak. When reviewing, Lenn tastes each wine three times — alone right after opening, with food, and again the next day — believing that 90-second reviews are unrealistic and not how the average person enjoys wine.