---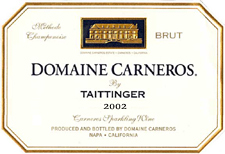 Domaine Carneros
2002 Brut Cuvee
(Carneros ~ Los Carneros)
When Claude Taittinger invested in a knoll-top property at the junction of Highway 121 and Duhig Road, the Carneros district had long since established itself as a superb cool-climate growing region with the capacity to make great sparkling wine. At the time, the name Carneros was anything but a household name, and it was fortunate that he was able to trademark the name of the region within the name of the house Domaine Carneros. Here Eileen Crane (ex of Domaine Chandon and Gloria Ferrer) would be invested with the responsibility of making a classic bubbly.

What Crane already knew was the true specialness of this region's ability to grow structured and aromatic Chardonnay that lends a distinctive fruit character to sparkling wines where the cuvee is dominated with Pinot Noir. This wine thus is a brilliant synthesis of both varieties, with the Chardonnay adding a fresh citrusy note to the first aroma you smell, but more prolonged exposure to the aroma shows not only the burnished Pinot Noir, but also the maturity the wine so desperately needed when it was released nearly a year ago. Domaine Carneros bubblies are indubitably drinkable on release, but count them among the few California sparkling wines that are better for time in bottle.

This is a special wine to consider with dinner, not just for special occasions. Indeed, serving it with a meal makes that repast a special occasion! One bonus here is a dosage level that's a tad higher than some sparkling wines, so it should serve well as an accompaniment to Thai food.
Reviewed July 25, 2006 by Dan Berger.
Other reviewed wines from Domaine Carneros
---
Winery: Domaine Carneros
Vintage: 2002
Wine: Brut Cuvee
Appellation: Carneros ~ Los Carneros
Grapes: Pinot Noir (63%), Chardonnay (35%), Pinot Blanc (2%)
Price: 750ml $25.00, 1.5L $55.00, 3L $115.00, 6L $235.00



Dan Berger

Dan Berger has been reviewing wine for 30 years, always seeking character related to varietal type and regional identity. He has never used numbers to rank wine and doesn't plan to start any time soon. He believes that weight and concentration aren't the only worthy aspects of wine and is especially smitten by cool-climate and food-friendly wines that offer distinctiveness.