---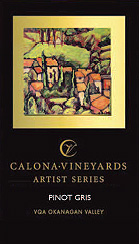 Calona Vineyards
2005 Artist Series Pinot Gris
(Okanagan Valley)
Pinot Gris was the varietal with which Calona Vineyards scored a storied coup. Its 1999 vintage was best of class at the Los Angeles County Fair. And the story got better. The judges included the wine writing team from the Wall Street Journal, who gushed about the wine, then selling for $11 Canadian a bottle. The day after the WSJ article, the switchboard lit up at Calona. One potential buyer wanted to send his corporate jet for two cases. Sadly, the wine was almost sold out when the award was announced.

Calona Vineyards has retained the style of that award-winning Pinot Gris in each succeeding vintage. This vintage – and 2005 was the best white vintage of the decade – is a charmer, with aromas of melons, flavours of pears, cantaloupe and peaches, and a refreshing finish. Now would be the time to dispatch that jet to Kelowna again. 87 points.
Reviewed August 10, 2006 by John Schreiner.
Other reviewed wines from Calona Vineyards
---
Winery: Calona Vineyards
Vintage: 2005
Wine: Artist Series Pinot Gris
Appellation: Okanagan Valley
Grape: Pinot Gris / Grigio
Price: 750ml $13.49



John Schreiner

John Schreiner has been covering the wines of British Columbia for the past 30 years and has written 10 books on the wines of Canada and BC. He has judged at major competitions and is currently a panel member for the Lieutenant Governor's Awards of Excellence in Wine. Both as a judge and as a wine critic, he approaches each wine not to find fault, but to find excellence. That he now finds the latter more often than the former testifies to the dramatic improvement shown by BC winemaking in the past decade.