---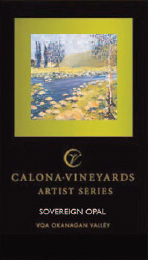 Calona Vineyards
2005 Sovereign Opal - Artist Series Reserve, Casorso Vineyard
(Okanagan Valley)
This white wine is unique to Calona Vineyards and, indeed, to the Okanagan Valley. The Sovereign Opal grape variety was developed by Agriculture Canada's research station at Summerland and was first released to growers in 1976. Initially know as Summerland Selection-166, the grape is a cross of Maréchal Foch and Golden Muscat. The former parent gives the variety hardiness and the latter gives it character. Any of the varieties that the research station offered for commercial use were assigned names starting with Sovereign. Most of the successful varieties from that program were table grapes. Sovereign Opal is the only wine grape that was commercialized.

Today, it is grown exclusively for Calona by the Casorso family, vineyard owners in the Kelowna area for nearly 75 years. Calona released its first Sovereign Opal as a named varietal from the 1987 vintage. Only enough is planted to yield about 1,500 cases annually, which sells out before the next vintage. That's as it should be. This wine is best when it is fresh.

In the Okanagan's superb 2005 vintage, Calona was able to make the classic Sovereign Opal: floral aromas of rose petal, along with spice and dill notes. On the palate, the wine tastes of peaches and apples touched up with exotic spices. The core of Muscat spiciness provides a nice backbone and ties up the wine's pleasingly off-dry finish. 86 points.
Reviewed August 21, 2006 by John Schreiner.
Other reviewed wines from Calona Vineyards
---
Winery: Calona Vineyards
Vineyard: Casorso Vineyard
Vintage: 2005
Wine: Sovereign Opal - Artist Series Reserve
Appellation: Okanagan Valley
Grape: Sovereign Opal
Price: 750ml $12.49



John Schreiner

John Schreiner has been covering the wines of British Columbia for the past 30 years and has written 10 books on the wines of Canada and BC. He has judged at major competitions and is currently a panel member for the Lieutenant Governor's Awards of Excellence in Wine. Both as a judge and as a wine critic, he approaches each wine not to find fault, but to find excellence. That he now finds the latter more often than the former testifies to the dramatic improvement shown by BC winemaking in the past decade.