---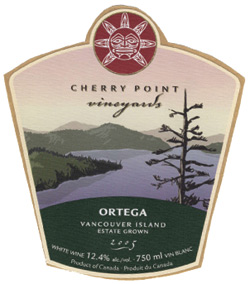 Cherry Point Vineyards
2005 Ortega
(Vancouver Island)
Cherry Point opened in 1994 on a former mink ranch in the Cowichan Valley, Vancouver Island's largest wine growing region. It was an established but still struggling 10 years later when the Cowichan Indian Band bought the property. Just the second aboriginal group in North America to run a winery, the band has brought much needed additional resources – both money and manpower – that have improved Cherry Point significantly, starting with careful viticulture in the 22-acre vineyard. Still on the books: a modern winery to replace the renovated mink barns is being designed. As it is, winemaker Simon Spencer managed to produce about 15,000 cases a year of competent wines from dated facilities.

Ortega is one of the major varieties in the vineyard. Spencer, employing cool fermentation in stainless steel tanks, has been making some of Vancouver Island's best Ortega wines since he arrived in 2003. Trained in Britain, the youthful Spencer followed a girlfriend to Vancouver Island – a stroke of luck for the island wine industry which did not have many formally trained winemakers at the time.

An aromatic wine with peach on the nose, this Ortega is crisp, even flinty, making it ideal for seafood. Light in body and blessedly moderate in alcohol, the wine has flavours of grapefruit. Perceptive tasters also find peach and mango flavours. It is refreshing and clean on the finish. 86 points.
Reviewed September 20, 2006 by John Schreiner.
---
Winery: Cherry Point Vineyards
Vintage: 2005
Wine: Ortega
Appellation: Vancouver Island
Grape: Ortega
Price: 750ml $15.50



John Schreiner

John Schreiner has been covering the wines of British Columbia for the past 30 years and has written 10 books on the wines of Canada and BC. He has judged at major competitions and is currently a panel member for the Lieutenant Governor's Awards of Excellence in Wine. Both as a judge and as a wine critic, he approaches each wine not to find fault, but to find excellence. That he now finds the latter more often than the former testifies to the dramatic improvement shown by BC winemaking in the past decade.