---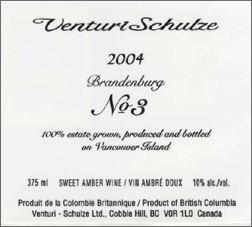 Venturi-Schulze Vineyards
2004 Brandenburg No.3
(Vancouver Island)
One of Vancouver Island's cult wineries, Venturi-Schulze has earned that reputation by going to extraordinary lengths to make interesting, if idiosyncratic, wines. Brandenburg No. 3, its best-selling wine, is a perfect example.

The base for this wine is estate-grown Madeleine Sylvaner, an unexceptional Loire variety that has been planted in British Columbia's cooler vineyards. It makes serviceable table wines at best, except in the capable hands of winemaker Giordano Venturi. After picking and crushing the grapes, he simmers the juice for several days, concentrating the flavours and the sugar to around 50 Brix. Then the juice is cooled and inoculated with a special yeast Venturi isolated at his winery. Fermentation can last up to a year, until the yeast stops naturally, leaving a touch of residual sugar. The wine is aged in French oak and then is bottled with no preservatives and no sulphites.

The outcome is a tour de force, amber in colour with a dramatic aroma of cassis. The texture is full and rich, with flavours of caramel, coffee, bakes apples and spice. The finish is long and warming. This is a contemplative wine, as satisfying as fine Cognac or Single Malt but with only nine per cent alcohol. 91 points.
Reviewed October 2, 2006 by John Schreiner.
Other reviewed wines from Venturi-Schulze Vineyards
---
Winery: Venturi-Schulze Vineyards
Vintage: 2004
Wine: Brandenburg No.3
Appellation: Vancouver Island
Grapes: Madeleine Sylvaner, Siegerrebe
Price: 375ml $35.60



John Schreiner

John Schreiner has been covering the wines of British Columbia for the past 30 years and has written 10 books on the wines of Canada and BC. He has judged at major competitions and is currently a panel member for the Lieutenant Governor's Awards of Excellence in Wine. Both as a judge and as a wine critic, he approaches each wine not to find fault, but to find excellence. That he now finds the latter more often than the former testifies to the dramatic improvement shown by BC winemaking in the past decade.