---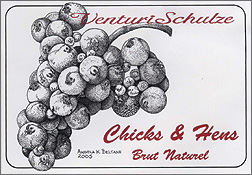 Venturi-Schulze Vineyards
2004 Chicks & Hens Brut Naturel
(Vancouver Island)
The Siegerrebe grape is a German white variety often planted in the cooler vineyards of British Columbia, such as Vancouver Island, because the variety ripens in early September and delivers spicy Muscat flavours. The variation of small and large berries on each bunch inspired Venturi-Schulze to call this sparkling wine Chicks & Hens. The bunch featured on the label, done by artist (and former museum taxidermist) Angela Beltane, whimsically depicts each grape as a plump chicken with its own individual personality. Like this wine.

Venturi-Schulze has always had a strong demand for its sparkling wines, made invariable in the bone-dry house style that the owners prefer in nearly every wine they make. Sparkling wines from Siegerrebe are unusual, if only because the variety does not retain natural acidity well as it ripens. However, this wine was made from the first harvest of a new planting. The young vines kept the acidity better. A dash of Kerner in the blend boosted acidity as well.

The result is a sparkling with a foamy display of bubbles. The wine is tart and lemony on the attack, with a toasty aroma and tangy herbal flavours. The crisply dry finish makes the wine quite refreshing. 87 points.
Reviewed October 2, 2006 by John Schreiner.
Other reviewed wines from Venturi-Schulze Vineyards
---
Winery: Venturi-Schulze Vineyards
Vintage: 2004
Wine: Chicks & Hens Brut Naturel
Appellation: Vancouver Island
Grapes: Siegerrebe, Kerner
Price: 750ml $28.10



John Schreiner

John Schreiner has been covering the wines of British Columbia for the past 30 years and has written 10 books on the wines of Canada and BC. He has judged at major competitions and is currently a panel member for the Lieutenant Governor's Awards of Excellence in Wine. Both as a judge and as a wine critic, he approaches each wine not to find fault, but to find excellence. That he now finds the latter more often than the former testifies to the dramatic improvement shown by BC winemaking in the past decade.