---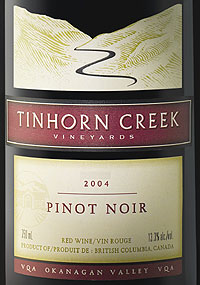 Tinhorn Creek Vineyards
2004 Pinot Noir
(Okanagan Valley)
In spite of the Pinot Noir hype flowing from the movie, Sideways, Tinhorn Creek reduced its output of Pinot Noir in 2004 to 3,365 cases. As recently as 2002, the winery made 8,867 cases of the same variety. Tinhorn Creek's Diamondback Vineyard on sandy Black Sage Road is one of the south Okanagan's hottest sites -- always challenging for a variety like Pinot Noir. Tinhorn Creek sold some of its acreage to neighbouring Burrowing Owl, which wanted to increase its Pinot Noir output. At the same time, Tinhorn Creek is raising its output of Syrah and Cabernet Sauvignon, better suited perhaps to the site.

That being said, the winery works hard to retain the delicacy of Pinot Noir. The grapes are picked in the early morning, arriving at the winery while still cool, to be crushed and given a three-day cold soak before fermentation. The wine is fermented to dryness and then aged in oak barrels that are four to six years old. The barrels no long impart significant oak to the wine, since the object at Tinhorn Creek is to show off the fruit. Still, one wonders whether aging a portion of the blend in new oak would not add useful complexity – no doubt, at the expense of this wine's affordability.

The wine begins with aromas of cherry and chocolate, carrying through to flavours of strawberries and black cherries. The tannins are still firm, giving the wine weight and implying aging potential. Tinhorn Creek recommends cellaring the wine five or six years from the vintage date. 86 points.
Reviewed October 20, 2006 by John Schreiner.
Other reviewed wines from Tinhorn Creek Vineyards
---
Winery: Tinhorn Creek Vineyards
Vintage: 2004
Wine: Pinot Noir
Appellation: Okanagan Valley
Grape: Pinot Noir
Price: 750ml $15.95



John Schreiner

John Schreiner has been covering the wines of British Columbia for the past 30 years and has written 10 books on the wines of Canada and BC. He has judged at major competitions and is currently a panel member for the Lieutenant Governor's Awards of Excellence in Wine. Both as a judge and as a wine critic, he approaches each wine not to find fault, but to find excellence. That he now finds the latter more often than the former testifies to the dramatic improvement shown by BC winemaking in the past decade.