---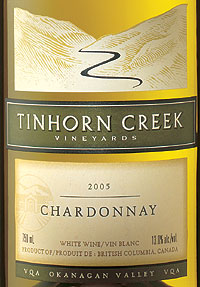 Tinhorn Creek Vineyards
2005 Chardonnay
(Okanagan Valley)
This is undoubtedly the best Chardonnay ever produced at Tinhorn Creek, and under priced for the quality. The bad news is that only 1,572 cases were made, down sharply from the 5,391 cases made in 2004. This remarkable decline was due largely to rain during the spring of 2005 that interfered with flowering in the Okanagan. (Tinhorn Creek also sold a slice of vineyard that included some Chardonnay.)

The good news is that the remainder of the season was superb. The fruit that did set yielded grapes bursting with flavour that now has shown up in virtually all of the wines of the Okanagan's 2005 vintage. Wines like this Chardonnay indicate that the 2005 vintage surpasses the quality of 2002, the previous benchmark year.

Tinhorn Creek, which now grows 10.3 acres of Chardonnay in two estate vineyards, had an average yield in 2005 of 2.5 tonnes an acre, down from four tonnes in the previous vintage. Sandra Oldfield, Tinhorn Creek's California-trained winemaker, fermented a quarter of the harvest in new French oak barrels, giving it two months aging on the lees. The other 75% of the fruit was fermented in stainless steel. The two lots were blended.

This is Tinhorn Creek's first Chardonnay bottled under screw cap; the winery has switched entirely to screw caps. The closure effectively captures appealing fruit aromas and flavours – notes of citrus, apples, peaches and vanilla. The texture is plush but the finish, reflecting a lively acidity, is refreshingly vibrant. This is a delicious, elegant textbook Chardonnay. 90 points.
Reviewed October 19, 2006 by John Schreiner.
Other reviewed wines from Tinhorn Creek Vineyards
---
Winery: Tinhorn Creek Vineyards
Vintage: 2005
Wine: Chardonnay
Appellation: Okanagan Valley
Grape: Chardonnay
Price: 750ml $15.50



John Schreiner

John Schreiner has been covering the wines of British Columbia for the past 30 years and has written 10 books on the wines of Canada and BC. He has judged at major competitions and is currently a panel member for the Lieutenant Governor's Awards of Excellence in Wine. Both as a judge and as a wine critic, he approaches each wine not to find fault, but to find excellence. That he now finds the latter more often than the former testifies to the dramatic improvement shown by BC winemaking in the past decade.