---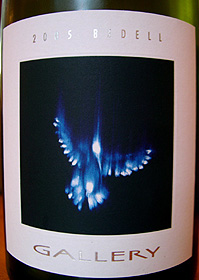 Bedell Cellars
2005 Gallery - Artist Series
(North Fork of Long Island)
Bedell Cellars' Artist Series displays two different types of artistic acumen. Outside the bottle, the labels are designed by world-renowned artists — but on the inside the winemaking team's winemaking and blending skills are on display. The combination leads to some of the North Forks most interesting releases.

Now, Bedell has released the newest of these art-inspired wines, the 2005 Bedell Gallery ($45). The press kit lauds this wine as "further evidence that Bedell is perfecting the art of wine." That might be a bit exaggerated — but it's not completely inaccurate.

This complex, richly textured white is a blend of 52% Chardonnay, 32% Sauvignon Blanc and 16% Viognier — a unique blend for the North Fork, or most anywhere else for that matter. Five separate lots of Chardonnay were barrel fermented in French oak with primarily native yeast, then blended with Viognier and Sauvignon Blanc. I tend to like Bedell's Chardonnays and used to love founding winemaker Kip Bedell's varietal Viognier bottling, so this blend was intriguing even before I popped the cork.

Pale straw yellow in the glass, the aromas immediately rise up from the glass — before swirling even begins — with lemons, vanilla bean, toasty marshmallow and oak, minerals and subtle baking spice come together in a layered-yet-fresh nose. The blend is absolutely seamless on the palate, with the three varieties coming together without any rough edges. The result is an elegant, well-balanced wine that is nimble on the palate but extremely flavorful. Citrus, vanilla and mineral flavors fill the mouth and just the right acidity brings balance and potential longevity. Balance is truly on display here.

In a wine world where so many emerging regions look to classic regions like Bordeaux and Burgundy for wines to model their own after, this wine stands alone as distinctively Long Island. The winemaking team at Bedell Cellars has used thoughtful blending to create an outstanding wine that fully displays, and I think explores, the potential for white wines on the North Fork.

Perfecting the art of wine? Maybe. But this wine is exciting because it shows off our region's terroir in a beautiful way — both the wine and the label, which was designed by artist Ross Bleckner.

They only made 200 cases, so I doubt it will last long. This is one gallery I plan to visit regularly this fall.
Reviewed November 14, 2006 by Lenn Thompson.
Other reviewed wines from Bedell Cellars
---
Winery: Bedell Cellars
Vintage: 2005
Wine: Gallery - Artist Series
Appellation: North Fork of Long Island
Grapes: Chardonnay (52%), Sauvignon Blanc (32%), Viognier (16%)
Price: 750ml $45.00



Lenn Thompson

Lenn Thompson writes about New York wines for Dan's Papers,
Long Island Press, Long Island Wine Gazette, Edible East End and Hamptons.com. Two words describe his taste in wine — balance and nuance. Lenn prefers food-friendly, elegant wines to jammy, over-extracted fruit bombs and heavy-handed oak. When reviewing, Lenn tastes each wine three times — alone right after opening, with food, and again the next day — believing that 90-second reviews are unrealistic and not how the average person enjoys wine.