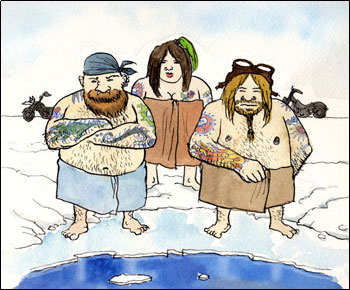 St. Pepin
You are all part of a band of native and French-American crosses that could easily be called the 'Polar Bear Gang'. A lot of you are from Minnesota, and you've been bred to be tough and hardy. Many of your parents were imprisoned in labs for so long that they go by their identification numbers, rather than their names. Frontenac, otherwise known as the 'heavy producer', is the latest to join your gang. People of the northern states are glad that you now control the flow of wine. In the frigid northern winters, weak-limbed vines all too often never deliver.

Appellations Growing St. Pepin Grapes
Appellations producing the most St. Pepin wines:
St. Pepin is a sister seedling of LaCrosse, which was also developed by Elmer Swenson. However, the similarly cold-hardy St. Pepin is a fruitier and earlier-ripening grape, which makes one of the best white wines in Minnesota. It is also used for juice. The grape is being grown experimentally in South Dakota and in other cold winter states. The vine has average susceptibility to Downy Mildew, Powdery Mildew, and Black Rot.