Boyd Family Vineyard: winery information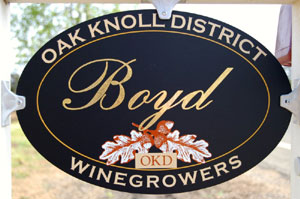 Winemaker: Stan Boyd
A career change from the luxury hotel business to the wine business in 1999 has allowed Stan Boyd to pursue his passion for making premium wines with a focus on Bordeaux varietals. Following his first vintage in 2000 he has continued to develop and refine his skills with the stewardship of many mentors in the Napa Valley. After being recognized with many awards, including a Double Gold medal at the California State Fair and Best Red Wine of Show at the Marin County Fair, he has taken the step to produce his first commercial vintage in 2004.
Annual Production: 1,500 cases
Estate Vineyard Acreage
15 acres consisting of Merlot clone 181, Syrah clones 470, 877 and Phelps, Cabernet Franc clone 327, Malbec Monte Rosso clone and Voignier.
Grape Varieties Planted