Chateau Felice: winery information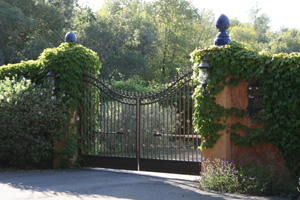 Winemaker: Tami Collins
Tami Collins is the Winemaker at Chateau Felice. She directs all winemaking operations from vine to bottle. A graduate of U.C. Santa Barbara in Earth Sciences, Tami comes to us from Blackstone Winery in Napa County and De La Montanya winery in Sonoma County.
Annual Production: 4,500 cases
Futures
Join the Barrel Club for the best deal. Custom blend your own wine and customize your own label. Call Barry for details.
Estate Vineyard Acreage
25 acres of vineyard on a 45 acre property located in a private valley off Chalk Hill Road. All vineyards are on hillsides on meager soils that force the vines to struggle and produce excellent flavors at low yield.
Grape Varieties Planted