Cooper-Garrod Estate Vineyards: winery information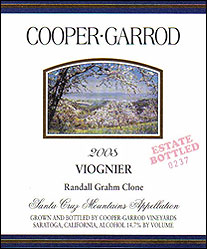 Winemaker: George Cooper
Winemaker and Winery Manager. Married Louise Garrod in 1941. Educated as a mining engineer, trained as a pilot in WWII, and flew the P-47 "Jug" with the 412th Fighter Squadron in the European Theater. After the war, he pursued a successful career as chief research test pilot for NASA. Wanted something fun to do after his 1973 "retirement", so planted grapes and set about learning to make wine. Produced a private reserve enjoyed by the family for 20 years before commercial sales began in 1994.
Annual Production: 3,000 cases
Estate Vineyard Acreage
28 acres
Grape Varieties Planted
For more information on Cooper-Garrod Estate Vineyards visit them on the web at
http://www.cgv.com
.