L. Mawby Vineyard: winery information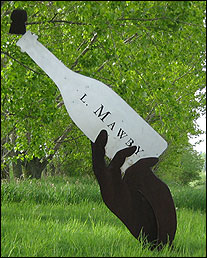 We have been producing wines here since 1978, and have been making sparkling wines using the champagne method since 1984. Since 1998, we have added space to our winery and purchased new equipment to permit us to specialize in the production of methode champenoise sparkling wines. Today we use a Bucher tank press to whole - cluster press our grapes [all of which are hand picked]. Our riddling is done by a gyropalette, a computer controlled device manufactured in Champagne. Disgorging, dosaging, corking, wirehooding and bottle washing machines all come from suppliers around Epernay in Champagne. Because this equipment is designed to use standard champagne bottles, we import our bottles from Rheims. Currently we produce around 100,000 bottles of sparkling wine each year. I believe we might be mid America's largest producer of methode champenoise sparkling wines. We are certainly one of a very few producers in North America who make sparkling wine their focus. In 2004 we began producing sparkling wines in the cuve close (tank fermented) method, marketed under the brand name, M. Lawrence. This has allowed us to increase production to meet demand, and produce additional styles that are best done with less aging.
Annual Production: 16,000 cases
Estate Vineyard Acreage
Our first vines were planted in the spring of 1973, and have been increased with later plantings. Today our vineyards cover about 13 acres and we are planting an additional 5 acres in the spring of 2007. The vineyards today include the direct producer varieties vignoles and seyval and the vinifera varieties pinot noir, pinot gris, chardonnay, and pinot meunier. Vignoles is a hardy, distinctively flavored variety that is used in our Cremant [100% vignoles], and is part of the Talismøn vineyard blend. Seyval is a neutral variety that forms the basis of Sandpiper. Pinot noir, pinot meunier, and chardonnay are the classic varieties of Champagne, and are used in varying combinations in nearly all of our sparklers. We grow more pinot noir than any other variety. Pinot gris is a variety that once was grown in Champagne - we grow it because we like it in blends as it offers a 'roundness' of flavor that complements chardonnay.
Grape Varieties Planted