Miner Family Vineyards: winery information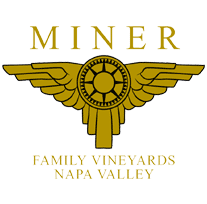 Winemaker: Gary Brookman
Gary Brookman began his professional winemaking career in 1980 at Joseph Phelps Vineyards, where he worked with a myriad of varietals and refined his skills with each passing harvest. After his tenure at Phelps, Gary spent two years at Franciscan Estates where he garnered a passion for wild yeast fermentation. Gary has been an integral part of Miner Family Winery since its inception in 1998. By seeking out the finest vineyard sources and crafting wines in critical pursuit of bottled harmony, Gary is truly able to capture the essence of the land. Originally from southern California, Gary lives in St. Helena with his wife Joan, and their two children.
Annual Production: 25,000 cases
Estate Vineyard Acreage
OAKVILLE RANCH VINEYARD, NAPA VALLEY
One of the key fruit sources for Miner Family wines, Oakville Ranch Vineyard was originally purchased in 1989 by Robert and Mary Miner and now stands as a stunning 80 acre vineyard situated nearly 1000 feet above the valley floor in the eastern hills of the famed Oakville appellation. The red, rocky volcanic soils held within this mountainous site are ideally situated for growing deeply focused Cabernet Sauvignon, Merlot, Cabernet Franc, Syrah and surprisingly intense Chardonnay. This unique landscape with its panoramic vistas surely ranks as one of the most beautiful vineyard settings in the world. (Cabernet Sauvignon, Merlot, Cabernet Franc, Syrah & Chardonnay)

SIMPSON VINEYARD, MADERA
From famed grower and vintner John Simpson we receive our heady and intoxicatingly delicious Viognier berries. This little known area in California's Central Valley near Fresno, is not typically thought of as a primary source of fine wine grapes by the powers that be. To this we say, the proof will always be found in the bottle folks. The hedonistic nature of this particular varietal is heightened by the passionately farmed, low-yielding vines that produce grapes of unusual concentration, purity of flavor and electrifying vibrancy. (Viognier)

STAGECOACH VINEYARD, NAPA VALLEY
The Stagecoach vineyard surely must be one of the most ambitious vineyard developments to date. Situated upon and named for an 1800's stagecoach trail, this 800 acre vineyard was laboriously carved from enormous rocks and boulders high atop the eastern hills of Napa Valley. At nearly 1500 feet above the Valley floor and nearly straddling the Oakville Ranch property, this vineyard has quickly caught fire with winemakers searching for grapes of uncommonly deep and profoundly complex nature. (Merlot, Cabernet Sauvignon, Cabernet Franc & Syrah)

GIBSON RANCH, MENDOCINO
Bob Gibson is a third generation grower, maintaining a pristine family vineyard in Hopland originally planted and then passed down by his grandmother. Each year we produce less than 1000 cases of Sangiovese along with a delightfully fresh and amazingly popular Rosato. The sublime fruit for both wines is a thrilling testament to the care and passion put to practice within this vineyard. Multiple passes through the rows for hand-cut clusters during harvest along with classic vertical trellising further demonstrate an unerring eye toward quality in this beautiful Mendocino setting. (Sangiovese, Rosato)

GARYS' VINEYARD, SANTA LUCIA HIGHLANDS
Widely recognized for growing some of the finest Pinot Noir in the state, this dynamic hillside vineyard is located just south of Monterey in the Santa Lucia Highlands. Named after partners Gary Franscioni and Gary Pisoni, this 50 acre parcel was planted in 1995 using surreptitiously obtained budwood from the famed La Tache vineyard in Burgundy. Garys' vineyard defines the notion of terroir relative to California Pinot Noir and offers a further nod to Burgundy with its long, cool growing season attributed to the maritime breezes of the Pacific ocean. Smoking hot, though decidedly cool...Garys' vines now yield some of the most sought after fruit in California.

ROSELLA'S VINEYARD, SANTA LUCIA HIGHLANDS
This 50 acre parcel is only a stone's throw from Garys' Vineyard in the Santa Lucia Highlands. Owned by Gary and Rosella Franscioni, this vineyard was planted in 1996 using the "Pisoni" clone from La Tache as well as some Dijon clones. Influenced significantly by the coastal fog and winds, this picturesque site enjoys an abnormally long, drawn out growing season. We unveiled our first wine using fruit from Rosella's with the 2002 vintage. Production is very limited for our Rosella's Vineyard Pinot Noir, a wine which is fast becoming a favorite of Pinoficionados across the country.
Grape Varieties Planted