Newsome-Harlow: winery information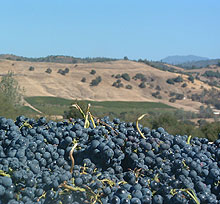 Winemaker: Scott Klann
Scott began his career in 1992 as the assistant winemaker for Stevenot Winery. He went on as winemaker for Chatom Vineyards. In addition to his own label, Newsome-Harlow, Scott is currently the winemaker for Twisted Oak Winery, where he is perfecting Spanish and Rhone varietals. He has also traveled to Australia for harvest 2005 to further his expertise. (Scott's mother's maiden name is Newsome).
Annual Production: 1,000 cases
Futures
We do not provide a futures program, however check out our website for info on new releases, or join the wine club for exclusive library collection options.
Estate Vineyard Acreage
Mark Skenfield, partner of Newsome-Harlow (Harlow is his grandmother's maiden name), grew up in Murphys and began his own vineyard development and management company in 1995. He is responsible for farming over 40 acres in 22 separate vineyards in Calaveras County. Our wines are made mostly from fruit farmed by Mark, all locally grown. Our Big John Zinfandel is considered some of the best Zin in the area.
Grape Varieties Planted