Norman Vineyards: winery information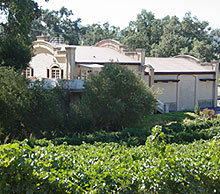 Winemaker: Steve Felten
Steve Felten, with nearly 30 years of experience in winemaking, an obsessive drive for excellence and a highly discriminating palate, is our winemaker and general manager. A true chemist, he believes that structure is the most significant component of wine.

A Los Angeles native, Felten earned a Bachelor of Science in Microbiology from California State University, Northridge. One Christmas, his lovely bride-to-be presented him with a home winemaking kit on a lark. And from this gift, a career was born. From that point on, Felten spent his spare hours making wine, traveling through Northern California to quiz vintners, and sampling wine from his neighbors' impressive collections. In 1980, he graduated with a Masters Degree in Enology from Fresno State University.

Subsequently Felten worked at a number of Californian wineries. His experience at both big corporate and small boutique wineries reinforced his commitment to quality, and his academic credentials making him ideal for pursuing the Norman Vineyards' goals of making World Class wines.
Annual Production: 25,000 cases
Estate Vineyard Acreage
In 1971, shortly after purchasing the winery's 40 acres, planning for the vineyards commenced. The shallow top soils on the site are underlined by calcareous limestone, providing an environment where grape vines struggle, yet the high water-holding capacity of the soils provides limited moisture to the vines through the long, dry summers.

The Normans also chose a very cool site by California viticultural standards, meaning that their grapes would mature more slowly. Chardonnay was chosen for a piece of the vineyard that was perfect for a variety which thrives in such cool climates. However, the majority of the vineyard was reserved for reds – a daring choice that has paid off well.

Our Estate Zinfandel, Merlot, Cabernet Sauvignon and Barbera tend to have harvest dates beginning in late October, sometimes stretching into December. As a result, our wines are made from grapes that have an extraordinarily long growing season and time to develop very full flavor profiles. In 2000, due to our success with reds and the availability of very high quality Chardonnay from Edna Valley, our Chardonnay was grafted over to Cabernet Sauvignon and Cabernet Franc to give us more options for our wine blends.
Grape Varieties Planted