Sol Rouge Vineyard and Winery: winery information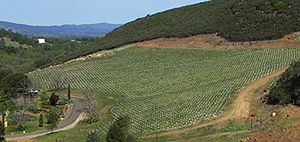 Winemaker: Bryan Kane
Bryan Kane, a long-time wine enthusiast and home winemaker, formally entered the wine industry with the launch of the wine brand VIE – a boutique winery focused on making high quality, limited production Rhone varietal and Zinfandel based wines from many of the finest vineyards in California. Within the first two years, VIE gained, what some call, "cult winery" status with each of its wines receiving 90+ point ratings and one being named "Top 100 wines of the Year".

At this time, Bryan, an executive in the high-tech industry, got "bitten" by the "wine bug". He convinced his fiancée (and now wife), Jill, to explore purchasing land in Wine Country instead of buying a new house in the San Francisco Bay Area. After over a year of researching and searching for the perfect vineyard site, Jill and Bryan found what is now called Sol Rouge. Four years and several millions of dollars later, Sol Rouge has become one of the most anticipated, high-density, high-elevation hillside vineyard in the North Coast with its first harvest anticipated in 2008.

Outside of some studies at UC Davis and learning through fellow winemakers, Bryan has worked harvest along side of several established winemakers. First, Bryan worked two harvests along side of Scott Shapley who worked as Assistant Winemaker at Siduri and Novy Cellars and currently heads up winemaking efforts at Roessler. Bryan continues to work along side of Scott as they both make their wines out of Copain's crush facility. In addition, Bryan worked with Kian Tavakoli of Clos du Val and Opus One and Mike Zitzlaff of Girard and Yarra Valley's Oakridge Estate in Australia. The experience working with Scott, Kian and Mike has been invaluable to the Bryan's transition from a home winemaker to his commercial efforts.

With the 2007 Harvest, Bryan took a sabbatical from the high-tech industry to focus on the wine industry full-time.
Annual Production: 750 cases
Futures
Our wines are produced in small lots and in very limited quantities, so we sell our wines by invitation only to our wine club members and to those on our mailing list. We encourage you to sign up to our mailing list to receive an allocation of our wine.
Estate Vineyard Acreage
Sol Rouge is a 70 acre estate at the northern edge of the Red Hills Appellation in Lake County. The property rests on the South West side of a dormant volcano (Mt. Konocti) that formed the North Coast Wine Country of Napa, Sonoma, Mendocino and Lake over 10,000 years ago. It is an aggressive site planted entirely on a hillside with an average slope of 35% and slopes of almost 60% in the terraced blocks.

Although Sol Rouge is a 70 acre estate, due to the extreme hillside terrain, less than 35 acres is available for planting. Currently, the estate contains 5 planted blocks: McKinney Block, Terrace Block, Diamond Block, Manzanita Block and the Guyot Block in which we will be farming Syrah much like that of the hillsides in Côte-Rôtie.

Within the various blocks, we chose a variety of different vineyard management techniques depending on the varietal. The use of vertical shoot position (VSP) trellis systems with both cordon and cane pruning and as more traditional techniques on head trained systems with goblet and guyot pruning methods allows us to farm each varietal in its traditional fashion.

The use of "high density" planting is used in which vines are planted close together in order to allow the vine to focus on producing less, higher quality fruit. Although costly (roughly 4 times the cost of an average vineyard), we have focused our efforts on quality resulting in what is said to be the most tightly planted vineyard in the Red Hills, with over 2200 vines per acre in some blocks.

The vineyard currently contains the following varietals and clones:

Grenache – Alban Block 2, Tablas A, ENTAV 362
Syrah – Alban Côte-Rôtie, Alban Hermitage / Estrella River, ENTAV 300, ENTAV 877
Mourvèdre – Tablas A, ENTAV 369
Counoise – Tablas A
Cinsault – Clone 02
Petite Syrah – Clone 03
Zinfandel – Old-Vine Clone from Beatty Ranch
Cabernet Franc – ENTAV 327 / Clone 08, ENTAV 332 / Clone 04
Cabernet Sauvignon – Clone 04, Clone 06, ENTAV 337

Most of the varietals are planted on 101-14 rootstock with the exception of Counoise and Cinsault on 110R, Petite Syrah on 5BB, and the old vine Zinfandel Clone on St. George rootstock.
Grape Varieties Planted