Viader Vineyards: winery information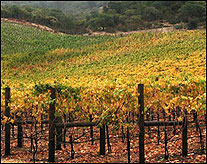 Winemaker: Delia Viader and her son, Alan Viader
Even before establishing VIADER, Delia Viader found she was decidedly more attracted to Old World wines. She was particularly impressed by the wines of Chateau Cheval Blanc in St. Emilion, from which she based the idea for her first blend, the 1989 VIADER (40% cabernet franc, 60% cabernet sauvignon). Always "daring to be different," Delia decided to bring the Bordeaux style of winemaking and vineyard cultivation to the California hillside by planting the vines in rows going up and down the mountain, following the path of the afternoon sun down the steep slopes of Howell Mountain. Since childhood, Alan Viader has assisted in the vineyards at VIADER. He formally pursued his interest in viticulture with a hands-on program in Sonoma and he learned the fundamentals of winemaking at UC Davis. There, he accumulated more knowledge and respect for the organic farming principles he grew up with at VIADER. Alan also spearheaded the biodynamic project with consultant Phillipe Armenier, integrating the biodynamic calendar and several herbal treatments to the vines and in the cellar with fervor. Alan has been managing the VIADER vineyards since 2002, but has worked in all areas of wine production, and also national sales. In 2006, Alan started dedicating his time to both vineyard management and winemaking. As Delia's right-hand, Alan has the opportunity of overseeing production from start to finish. And having inherited his mother's passion for winemaking and expressing the terroir, Alan is looking forward to many exciting vintages in the family business.
Annual Production: 7,000 cases
Futures
The "Futures" Program at VIADER offers the signature estate blends, VIADER Proprietary Cabernet Blend and "V" Petit Verdot Blend, at the best available price. Three vintages past the current vintage are available. Please contact the winery for more information at (707) 963-3816.
Estate Vineyard Acreage
30 acres planted
Grape Varieties Planted