tangent Winery: winery information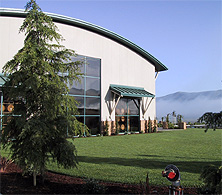 Winemaker: Christian Roguenant
Known both as a conventional traditionalist and a rebellious renegade, Christian Roguenant is actually a unique mix of the two. The son of a conservative banker, he grew up in the Burgundy region of France. Schooled at the University of Dijon, he learned to make wine using time-honored traditional methods. He earned not only a degree in Oenology, but a Certificate of Marketing for Wine and Spirits. Dangerously over-educated, he set out with his diploma in hand, and found there was still much to be learned. He quickly became interested in original and innovative techniques that made the process better and/or made a finished wine of higher quality.

Christian's insatiable thirst for novel methods took him to countless countries spread over five different continents. To name a few; France, Argentina, Germany, Australia, New Zealand and Korea, where he was responsible for making the official sparkling wine of the 1988 Olympic Games.

Not that Christian is by any means nearing his sunset years, his skills and talents are revered by many, especially his winemaking peers. His considerable experience puts him in a position to determine what sorts of wines he would like to make and what direction they should take. When John Niven and Michael Niven Blaney came to him with their idea for tangent, he committed right away. Not only are tangent's top-line goals on par with how Christian feels quality wines should be made, the alternative white wine only focus makes him grin. "I love a unique challenge, which tangent represents, so it's a no-brainer. What made the project completely irresistible is the style of wine. Pure varietal character, higher acid, minerality, wines to go with food. They remind me of some of the individual varieties we made back in France for sparkling wines, as well as some whites I made in the Loire Valley and in New Zealand."

Winemaking techniques for the tangent wines vary from one varietal to the next, but the basic approach remains the same. At harvest, Christian ferments the berries in stainless steel tanks at cold temperatures, usually between 50 and 60 degrees. There is no oak barrel or other sort of influence introduced, and the wines do not go through malo lactic fermentation. His aim is to ultimately bottle wines of pure varietal character that marry naturally with most foods.
Annual Production: 10,000 cases
Grape Varieties Planted