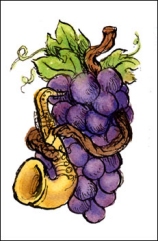 Though Delaware's three bordering states of Pennsylvania, Maryland and New Jersey all have well-developed wine industries, Delaware has been slow to follow suit. The state's first winery, Nassau Valley Vineyards, only began making wine in 1993. It took nearly a decade for a subsequent winery to open its doors. Nassau Valley, in southern Sussex County, features French hybrids, including Chambourcin, Seyval Blanc, and Villard Blanc. Consumers would surely welcome more company for the two existing wineries in this tiny eastern seaboard state. Delaware has an agreeable climate for viticulture. It is greatly influenced by the ocean, which is never more than 35 miles from any point of land here.

Whitehall Lane Winery, A 20 Year Story of Vineyards
By
Roger King
July 15, 2013
From initial vineyard plantings on Whitehall Lane in the 1800's the evolution to today's Whitehall Lane Winery has been a story of vineyard. The first 25 acre vineyard property is the winery site, yet the definition of multiple Napa Valley sub appellations is formed in a wide ranging set of vineyards all showing unique profile and character in their wines.  [>] continue

Embracing Virginia's Terroir
By
Richard Leahy
June 2, 2013

Shake Ridge Ranch - Gem of the Sierra
By
Roger King
May 16, 2013

Tannat, Vibrant Across the America's
By
Barbara Trigg
May 6, 2013

The Journey: California AVA's Deliver on Eastern Needs
By
Allison Siena
January 28, 2013

Welcome Middleburg Virginia AVA
By
Roger King
January 4, 2013

Humboldt County: Is Too Much Terroir Possible?
By
Clark Smith
October 14, 2012

Historic Buena Vista Winery Restored
By
Barbara Trigg
September 18, 2012